A fable well-told

By Jamie Folsom
Berthoud Recorder
I love it when local theater takes on big challenges. Even better when they do a brilliant job of it. Director Bruce K. Freestone admitted they were excited about doing the complex and challenging script for "The One-Eyed Man is King," but the production hangs together as naturally as if they didn't fuss over it for a minute.
The stageplay, written by Carter Lewis, is based on the H.G. Wells short story fable, "The Country of the Blind," in which a man stumbles into a hidden and mythical valley of blind people. He believes he can rule as king, but soon finds out that he is the one with a handicap and outcast in a world with no understanding of vision.
Lewis transposes this ironic tale to modern day upstate New York, where a blind thief, Bendalli (Dan Tschirhart) befriends one of his victims — the beautiful and wealthy Lise (Heather Lacy) — in the course of planning the robbery of her home. Their story weaves through the pain of waking up to the reality of a dying husband, an angry stepdaughter and a father who yearns to return to his home in Italy. As poignant as the story is, it is also filled with humor and charm.
The four-member cast, featuring Tschirhart and Lacy, move around one another like cats and mice. Up-and-coming Taryn Gawronski as the pithy teen stepdaughter, Elliot, shows much promise, and favorite character actor Greg Clark gives an outstanding performance as the storyteller/Jiminy Cricket-like Ludviccio, Bendalli's father. Tight staging, perfectly timed sound effects and a rock-solid set give the actors the best sort of support — a believable, yet ever-so-slightly surreal setting in which to boldly portray these witty/bittersweet characters.
Freestone sums up their intentions going into the play: "Live performance is risky. We embark into the unknown for just the purpose of visiting the frightful, dangerous precipice or the lost, unvisited ruin. To explore the inner landscape of unique characters and to tell the stories of our shared human adventure is the thrill and the reward."
Thanks for taking me with you on your great adventure. Kudos!
---
"The One-eyed Man is King: A Witty Modern Fable"
Playwright: Carter Lewis
Director: Bruce K. Freestone
Open Stage Theatre & Company
Playing now through Nov. 28
Tickets and info: www.OpenStage.com [1] or 970-484-5237
---
Upcoming in Fort Collins
Nov. 27 through Dec. 20: openstage, etc. presents "Jacob Marley's Christmas Carol" by Tom Mula. Tickets and info: www.OpenStage.org [2] or 970-484-5237
Nov. 28 through Dec. 27: Bas Bleu Theatre Company presents "Vaughn, NM, Christmas Eve, 1956" by Terry Dodd, and "A Child's Christmas in Wales" by Dylan Thomas. Tickets and info: BasBleu.org or 970-498-8949.
Dec. 10 through 13: Canyon Concert Ballet presents "The Nutcracker" with the Fort Collins Symphony. Tickets and info: www.LCTix.com [3] or 970-221-6230.
News Image: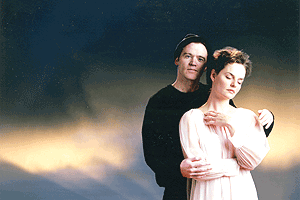 Long Description:
<p>Dan Tschirhart as Bendalli and Heather Lacy as Lise in OpenStage Theatre&rsquo;s production&nbsp; &ldquo;The One-Eyed Man is King&rdquo; by Carter Lewis.</p>
Category Lead:
Category Lead Story
Home Lead:
Home Page Primary Featured Story