By Kyle Lee
Berthoud Recorder
When Michael Jackson died the world was taken aback. Largely thought to be living in a life of solitude, he didn't make appearances unless he needed to. He hadn't been on the stage in over ten years, something he regretted. But when he died it was like he was transformed into a whole different person as the media lost sight of who he was. This wasn't new since it had been happening through his life.
This movie, which I saw initially as shameless cash in on a dead icon, seeks to rectify those stories that changed about who he was at his core. He was coming back to do these shows for the fans. And if there's one thing we learn in "This is it", its Michael's persona that we had all really known for years were made up. You'll watch this movie and say, "What did they do to him?"
It's really amazing to see the rehearsal process at work here. You go through how huge this show was going to be with 3-D concepts, new skits filmed specifically for the show, and auditions for the dancers just to name a few. Huge set-pieces, insane choreography, great musicians; it all comes together to make a fascinating look behind the scenes. It displays not only how hands-on Michael was, but how much he truly cares about the people around him. There were multiple instances when his dancers were clapping and cheering him on from offstage and he looks as humble as can be. He knows he's a big star but he really wants to be considered down to earth.
This film is what the King of Pop deserves, a fitting send off that never mentions him in the past tense, but shows him as he truly is; A great performer.
---
"This Is It"
Director: Kenny Ortega
Cast: Michael Jackson
Runtime: 1 hour, 52 minutes
MPAA rating: PG
Reviewer rating: HHHH out of 5 stars
Where: In theaters everywhere
Category:
Variety – Price of Admission
News Image: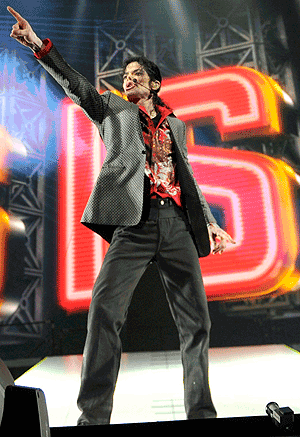 Category Lead:
Category Primary Featured Story

Print This Post