By Kyle Lee
Berthoud Recorder
Zombie movies have been done to death, if you'll excuse the pun. With a steady stream since the 1960s, it would seem the well would be dry by now. Similar to 2004's "Shaun of the Dead," "Zombieland" combines comedy and horror with fantastic results. That said, you can't really compare these two movies even though they share similar modus operandi. "Zombieland" is one of the most original, well put-together and oddest movies I've ever seen.
Author of "The Walking Dead" Robert Kirkman once said, "The best zombie stories aren't about the undead. They're about human interaction." "Zombieland" never forgets this, creating four unique characters each with a different motivation to survive. The crowd was laughing raucously throughout the gruesome goings-on, showing director Ruben Fleisher's skills with dark comedy.
The casting is a blast. Jesse Eisenberg is our protagonist and narrator, and has tremendous potential for stardom. Woody Harrelson is definitely a man who has finally found his calling in life. With Emma Stone and Abigail Breslin alongside, you have a cast with so much chemistry, it brings the film up to a higher level.
It's hard to believe so many well-made, fun and odd movies came out this past year. I've never been one for hyperbole, but out of the crowd of great movies I've seen since becoming a reviewer, "Zombieland" is truly the best of them all.
---
"Zombieland"
Director: Ruben Fleischer
Cast: Jesse Eisenberg, Woody Harrelson, Emma Stone and Abigail Breslin
Runtime: 1 hour, 20 minutes
MPAA rating: R
Reviewer rating: 5 out of 5 stars
Category:
Variety – Price of Admission
News Image: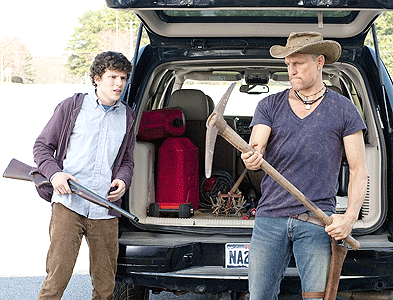 Home Lead:
Home Page Primary Featured Story

Print This Post