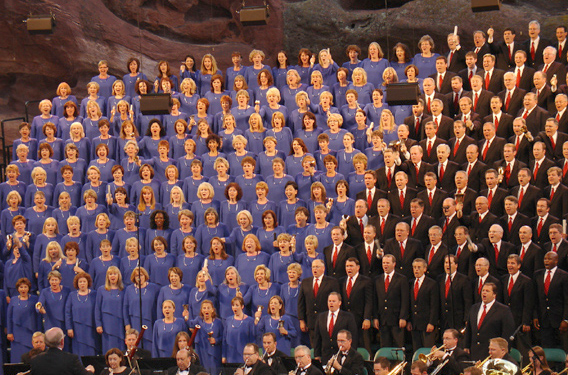 The Mormon Tabernacle Choir
with special guest Tom Brokaw
SALT LAKE CITY — The Mormon Tabernacle Choir and Orchestra at Temple Square will present a special 9/11 memorial performance of Music & the Spoken Word on Sunday, September 11th.  Celebrated news anchor Tom Brokaw will join the Choir as a guest narrator.  The program will highlight how Americans have risen above the loss and grief of 9/11/2001.
The program will present, in music and word, how that tragedy—and other challenges faced by everyday Americans—have bound our nation together, and inspired us to lead lives of deeper understanding, appreciation and purpose.
Mack Wilberg, music director of the Mormon Tabernacle Choir, said, "As much sorrow and grief as came from 9/11, there have also come positives.  In this program, we wanted to show how the indomitable American spirit turned a tragedy into a triumph of coming together and caring and serving.  The message of this show is that—as individuals and as a nation—we can find healing and strength in adversity, and literally rise above all the negatives."
Special guest narrator Tom Brokaw is one of the most trusted and respected figures in broadcast journalism. For 21 years, Brokaw was the anchor and managing editor of NBC Nightly News. He has received numerous honors, including the Edward R. Murrow Lifetime Achievement Award and an Emmy Award.
Wilberg described Brokaw as "gracious, charming and a privilege to work with" and added, "It was kind of fun that 'Shenandoah,' one of the songs in the program, is a favorite of his."
"9/11: Rising Above" will be broadcast on Sunday, September 11th on approximately 750 stations and networks in the US and Canada. A large number of these (including many NBC network affiliates) will be carrying a Music & the Spoken Word program for the first time.  Airtimes and station information can be found at www.musicandthespokenword.org, or by checking local listings.
Music and the Spoken Word's originating stations, KSL TV and KSL Radio, will air the special several times on September 11 and BYU Broadcasting has planned an extensive airing schedule on its various outlets.
Music and the Spoken Word, a weekly broadcast of musical selections by the Choir, interspersed with inspirational readings, has been carried on network radio ever since its inaugural broadcast on July 15, 1929, an unparalleled record of continuous network broadcasting.  Originating from the Tabernacle on Temple Square in Salt Lake City, Utah, the broadcast is carried on 2,000 radio, television, Internet, and cable networks across the country and around the world and has been inducted into the National Association of Broadcaster's Hall of Fame and the National Radio Hall of Fame.

Print This Post