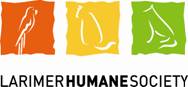 Larimer Humain Society's 13TH Annual Top Cat & Tails Gala 
Fort Collins, Colorado (September 26, 2011) – Tickets and tables are now on sale for Larimer Humane Society's Top Cat & Tails Gala, "A Night at the Meow-seum." The event, to be held Friday, October 21s at the Embassy Suites in Loveland, is Larimer Humane Society's largest fundraiser of the year, helping to celebrate and support the nearly 12,000 priceless companion, exotic, barnyard and wild animals the shelter cares for each year.
Guests will enjoy an adoptable pet parade featuring Kitty Warhol, Henri Meowtisse, Claude Meownet and other "artists" available for adoption; live music; a video presentation; and a gourmet dinner sure to please every palate. Attendees will also have the have the option to bid on a wide array of live and silent auction items including pieces from Larimer Humane Society's first ever Animal Art gallery exhibition "painted" by the cats, dogs and small mammals looking for compassionate homes; travel packages, jewelry, antique collectibles, gift packages and more.
The 13th annual Top Cat & Tails Gala, presented by Poudre Pet & Feed and Hill's Science Diet, will be co-hosted by Chris Kelly and Ryan Kramer from KISS 98.1 FM.
Advance reservations are required.  Tickets are $90 per person or $650 for a Top Dog table for eight.  Guests can register online by visiting www.larimerhumane.org or by phone by calling 970-530-2947.
Pictures of Larimer Humane Society's past Top Cat & Tails Gala events and pictures of this year's animal "artists" preparing their masterpieces are available for viewing and download on Larimer Humane Society's Flickr account:
About Larimer Humane Society
Founded in 1969, Larimer Humane Society is an independent, non-profit organization whose mission is to promote and provide the responsible care and treatment of animals.  As an open door facility, Larimer Humane Society provides shelter and care to every animal in need, regardless of breed, sex, age, behavior or history.  Through our quality adoptions, veterinary care, education, WildKind, and Animal Protection and Control services, Larimer Humane Society provides shelter and medical attention and care to nearly 12,000 domestic and wild animals each year.  Visit www.larimerhumane.org  for more information.

Print This Post