By Mike Moran


The tragic fires that raged in the foothills near Boulder are over, but now, more flames are raging in and around the town…………they come from the hair (and pants) on fire of CU football fans, boosters, some portion of the student body, outraged bomb-throwers on blogs and sports talk shows, and some of the scathing Denver media, also engaged with Josh McDaniels, the stumbles of the Broncos, and the collective outrage of Broncomaniacs, whose numbers, depending on which columnist is speaking, include "tens of thousands," "hundreds of thousands," or "millions across the state." One very respected scribe, hyperventilating after the 59-14 loss at the hands of the hated Raiders, told us that "This is a day that will live in Colorado football infamy. In a decade, we will still remember how much we suffered during this criminally boring game"………now, on the heels of Saturday's historic collapse in Lawrence by the Buffs, blowing a 45-17 lead in the fourth period to the hapless Hawks, Dan Hawkins is out after five painful seasons and a 19-39 record, and the search for a new gridmaster begins as the school enters the PAC-10 Conference……….as I was enjoying a gorgeous Sunday drive home through Southern Colorado after a restorative weekend in Santa Fe, I mused about how football drives many of our residents and how important it is to them to have wins and success………our state is the envy of millions who dream of being able to live in the Rockies and cities like Boulder, Fort Collins, Colorado Springs, Aspen, Vail and Denver, the clean air, the healthy lifestyles, skiing, breathtaking scenery, an unmatched quality of life, and the energy…………but for many who are here and bask in the warm glow of calling Colorado home, Saturdays and Sundays from September to Thanksgiving, and occasionally beyond, are measured by what takes place on a 100-yard surface……..this football season in our state has produced a very limited amount of joy, most of it in Colorado Springs and because of the Air Force Falcons, a program on the way up under a passionate and admired head coach, Troy Calhoun……..and players to be admired as genuine NCAA "student-athletes," whose days and evenings bear little resemblance to those at the majority of those institutions across our land where the weekly BCS rankings dominate………..but for narrow, heartbreaking losses to powerful Oklahoma and Utah, these Falcons would be the toast of the nation's football fans……….but now, in Boulder, it begins again, as it did in 1948 with Dal Ward (63-41-6) and the entry into the old Big Seven Conference, in 1959 with the hiring of Sonny Grandelius (20-11-0), who rode the Buffs into the Top Ten and Sugar Bowl, only to destroy the program with NCAA penalties and the loss of 30 players, in 1963 with the hire of 31-year-old Eddie Crowder (67-49-2), a former Oklahoma great under Bud Wilkinson who really ushered the Buffs into the heady atmosphere of big-time football, in 1974 with the choice of Bill Mallory (35-21-1) from Miami of Ohio after Crowder stepped aside following a 5-6 season in 1973, in 1979 with the disaster that would be Chuck Fairbanks (7-26-0), who had led the Sooners to three straight 11-1 seasons at Oklahoma and into the NCAA doghouse and then was lured away from the New England Patriots by Crowder and Buff boosters, in 1982 when athletic director Crowder took a gamble on Michigan assistant Bill McCartney (95-55-5), a move that led to the school's greatest grid glory and a national title in 1990, in 1994 with the stunning retirement of McCartney at the height of his success and the hiring of Rick Neuheisel (33-14-0), turning to Gary Barnett (42-33-0) in 1999 and the 62-36 thrashing of Nebraska in 2001 and Big 12 crown, then his dismissal in 2005, to the entrance of the hot young Hawkins in 2006 after huge success at Boise State……….rumors fly now……a return of the 70-year-old McCartney with former Buff star and Denver prep coaching star Dave Logan, LSU head coach Les Miles, a former Buff assistant, Alabama defensive coordinator Kirby Smart, Auburn offensive coordinator Gus Malzahn, Minnesota Vikings assistant head coach Eric Bieniemy, the former Buff star, UCLA offensive coordinator Norm Chow, TCU defensive boss Dick Bumpas, even Air Force's Calhoun………it's going to be demanding time to remember for CU athletic director Mike Bohn, who grew up in Boulder, went to KU, then enjoyed success as an administrator at Air Force and San Diego State……..Bohn, who hired Hawkins, fired him today, and even as he faces the task of finding a new head coach, deals with rumors that he is on the short list for the AD job at KU………….well, we shall have the answer soon, because the new coach must hit the ground running, with critical recruiting to be done, team morale to be restored among the underclassmen, media requirements, boosters to be met and engaged, alumni to be soothed, and fences to be mended……..it will be next season soon enough, with dazzling Oregon and Southern Cal coming to Folsom Field for games with the Buffs, and road games at Hawaii, Ohio State, Utah, Stanford, Washington, UCLA  and Arizona State……..and finding another opponent for a home date on September 10 ahead of the annual CSU Rocky Mountain Showdown in Denver…………in the end, it will work out for the Golden Buffs again, as it always has………no dynasty will be constructed in Boulder, because that's not part of what this superb institution is about………CU has produced 17 astronauts (footballer Jack Swigert went to the Moon), Rhodes Scholars (football All-American Joe Romig was one), superb lawyers, doctors, teachers, journalists (ESPN's Chris Fowler, host of College Game Day, Rick Reilly), Supreme Court Justices (football All-American Byron "Whizzer" White was one), musicians like Dave Grusin, Judy Collins, and the legendary Glenn Miller, actor Robert Redford, author and director Dalton Trumbo, six Nobel Laureates, Olympic gold medalist Bill Toomey, and, yes, scores of NFL stars and All-Americans and one Heisman Trophy winner…………there will be golden moments again at Folsom Field on occasion, and sellout crowds, and fans will storm the field someday when the Buffs upset Southern Cal………there will be PAC-10 showdowns, NFL draft choices and Top-25 rankings and a bowl game here and there……..but this is not Lincoln, Norman, Austin, College Station, Columbus, Tuscaloosa, nor Baton Rouge, and it shouldn't be in the grand scheme of how a great University defines itself………..when I drove from Omaha to Boulder in the autumn of 1968 to take the job as the sports information director at CU, I came over the crest of the hill that winds down into Boulder, and the view took my breath away…………there were the Rockies with an early splash of snow, the blazing reds and yellows of the turning aspen, and this beautiful campus to behold……..what a gift I received over the next decade……….I watched from a pressbox as the Buffs notched upsets of Oklahoma, Penn State, Missouri, LSU, Alabama and Ohio State and suffered through ten straight defeats by Nebraska……….when I left for the United States Olympic Committee and a new, 25-year adventure in 1978, I departed enriched by my times, people, coaches, players and leaders at the University of Colorado………the experience of a lifetime in an atmosphere of excellence. For thousands yet to enjoy that same opportunity, it will surely remain the same, even if it won't include hoisting the BCS championship prize.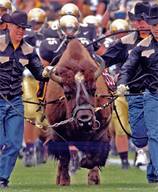 Fight, CU down the field,
CU must win,
Fight, fight for victory,
CU knows no defeat,
We'll roll up a mighty score,
Never give in,
Shoulder to shoulder,
We will fight, fight,
Fight fight fight

Mike Moran was the chief spokesman for the United States Olympic Committee through thirteen Games, 1980-2002. The Omaha, Nebraska native was the Sports Information Director at the University of Colorado for a decade before joining the USOC in 1978 as it left New York City for Colorado Springs. He was the Senior Communications Counselor for NYC2012, New York City's Olympic bid group from 2003-2005 and is now a media consultant.


Print This Post