Tearful Berthoud: Thanks, Justin Bauer
By Shari Phiel
Berthoud Recorder
Hundreds of mourners gathered together at Lifebridge Christian Church in Longmont to bid a final farewell to Staff Sgt. Justin Bauer. Approximately 800 family members, friends, classmates, fellow soldiers along with many who had never had the opportunity to meet the remarkable young man filled the church pews to say goodbye.
The Berthoud native was killed on Jan. 10 in Iraq when an improvised explosive device exploded near the vehicle his was riding in. Bauer had returned to Iraq only recently to serve his second tour of duty.
Along with the mourners, around 100 Patriot Guard motorcycle riders quietly lined the church's entryway, saluting the procession of family and Bauer's casket as they passed through, led by police.
Standing in front of a display that included Bauer's high school football jersey and firefighting gear, Army Chaplain P. Dudley Neal began the hour-long service with the invocation, calling Bauer "an utterly unique and significant human life."
The service included a memorial slideshow, Bauer's favorite songs including "I'm Coming Home" by Chris Daughtery, and comments from Major General Curtis
Scaparrotti, the Commanding General for the 82nd Airborne Division Bauer Served in.
Fellow paratrooper Captain Craig Arnold also offered his remembrances of Bauer, stating, "I would have followed that man anywhere."
Following the service, a procession of 500 cars followed the Berthoud fire truck that carried Bauer's casket as it wound through the streets of Berthoud. As the fire truck passed by with sirens roaring, hundreds lined Berthoud's streets waving American flags of every size.
As the procession reached east Highway 56, dozens of cars lined both sides of the highway, most flying American flags, while mourners lined the road reaching as far as the entrance to Berthoud Cemetery.
Coming from Loveland, Longmont, Fort Collins and even Wyoming, many of those who lined the roads had never met Justin Bauer yet felt compelled to show their respects to this very special young man. Former Berthoud resident Doris Demoss now lives in Loveland was one of those who waited along the highway just to show her support. "We're here because we also have a son in Iraq," said Demoss, noting she feels it's important for the soldiers to know they are loved and supported.
A large gathering of mourners circled around Bauer's casket after it was led from the fire truck to the graveside. Chaplain Neal once again spoke, noting "we've come as far with Justin as we can." It was the fire truck's bells and the final radio call for the Berthoud firefighter that brought tears and sobs from Bauer's family as well as the crowd.
Bauer's cousin Mike Fohrd, a Colorado State Trooper, conducted a short eulogy and extended the condolences of Gov. Bill Ritter who was unable to attend the services. Fohrd then presented Bauer's father, Greg, his widow Kari and his mother Connie Haddock with three flags that had been flown over the state capitol on the day Bauer was killed.
The service also included a 21-gun salute, followed by the playing of "Taps" and then a bagpipe rendition of "Amazing Grace." Following the close of the service, the family remained behind to say goodbye in private.
News Image: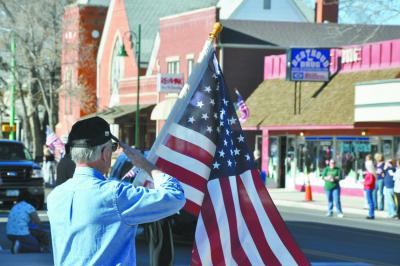 News Image: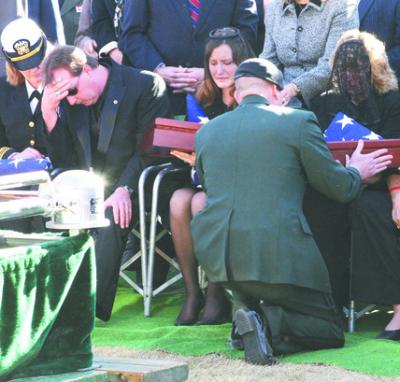 News Image: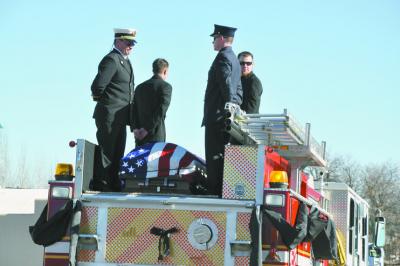 News Image: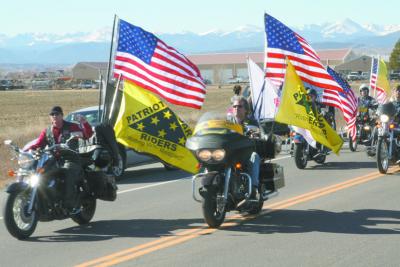 News Image: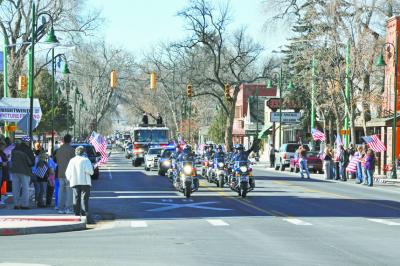 Long Description:
<p>Police officers, firefighters, veterans, friends, family and community members assemble on Mountain Avenue in Berthoud on Tuesday for the funeral procession for Staff Sgt. Justin Bauer, who was killed on Jan. 10 in Iraq.</p>
Long Description:
<p>Greg Bauer (left), father to Justin Bauer and Justin's wife Kari, express their grief while the slain soldier's mother, Connie Haddock, receives a memorial flag flown over the state capitol on the day Justin was killed.</p>
Long Description:
<p>Fellow firefighters stand at the ready on the Berthoud firetruck that carried Staff Sgt. Justin Bauer's casket through Town and to the Berthoud Cemetery.</p>
Long Description:
<p>Patriot Guard Riders, who lined the entryway at Lifebridge Christian Church, arrived prior to Staff Sgt. Justin Bauer's funeral procession to prepare for his arrival.</p>
Long Description:
<p>Police lead the funeral procession for Staff Sgt. Justin Bauer through Berthoud as community members, veterans, family and friends carrying flags watch the 500-vehicle procession pass by.</p>
Home Lead:
Home Page Lead Story

Print This Post