By Shari Phiel
Berthoud Recorder
The Berthoud Fire Protection District received a call about a grass/wildland fire southwest of Berthoud just after 11:30 a.m. on Monday, Jan. 19. The fire, which could easily be seen from U.S. Highway 287, was just north of County Road 6.
Fire crews from Longmont, Hygiene and Mountain View fire departments joined Berthoud crews in battling the flames and had the fire out within a couple of hours.
Thanks to the quick efforts of fire crews, only one structure was damaged by the fire. A small, outlying barn was charred by heat and smoke when wind-driven flames raced up the hillside coming to within a short distance from the barn.
According to a statement released by BFPD, fire investigators were on the scene and were able to determine the cause of the fire, which was "accidental as a result of routine farming operations."
A man harvesting corn stalks in the field where the fire began noticed the wind had blown chaff onto his radiator, and attempted to clear the chaff off. He then "noticed smoke underneath the flail, stopped and tried to put out the smoldering corn chaff, but was unable to stop the fire after the wind caught the embers," according to the BFPD's statement.
In total, approximately 10 to 12 acres were burned in the fire. No injuries were reported and no evacuations were called for.
News Image: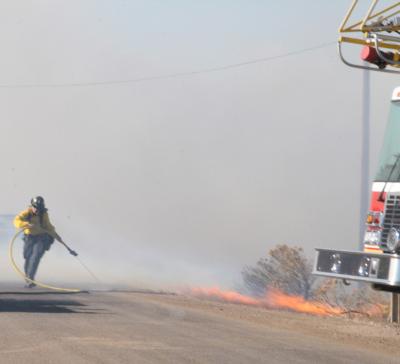 Long Description:
<p>A firefighter attempts to hold back flames spurred to life by high winds southwest of Berthoud on Monday, Jan. 19.</p>
Category Lead:
Category Secondary Featured Story

Print This Post