By Laurie Hindman
Berthoud Recorder
On Friday Turner Middle School held its end of semester "Spirit Assembly," but before the fun and games began, ten students were presented with Kindness Awards. Students were nominated by teachers in recognition of the students' consistent demonstration of good character throughout the semester. Each student received a $20 gift card to Centerra shops; the awards are funded by an annual donation from the Loveland Rotary Club.
"We asked teachers to identify kids who speak kindly to others, are respectful of adults and peers, have a positive attitude or go out of their way to help new students," said school counselor, Ryan Smith.
Dave Hunn, a sixth-grade science and math teacher opened the awards presentation by sharing quotes on kindness. Reading from Mother Theresa, Hunn told the restless adolescent crowd, …"People are often unreasonable, irrational, and self-centered. Forgive them anyway. If you are kind, people may accuse you of selfish, ulterior motives. Be kind anyway." He also quoted a Chinese proverb, "I hear and I forget. I see and I remember. I do and I understand."
The ten surprised students were called up to shake the hand of the principal and receive their awards to the thunderous applause and cheers of the student body.
"It is a great opportunity for the school to recognize those students who make our school that much better," commented Principal Bill Siebers.
The following students received kindness awards:
Sixth Grade
Janet Beltran
Aiden Colton
Lauren Mesikapp
Seventh Grade
Jo Buckley
Kenny Frieberg
McKenna Hawkins
Daniel Raak
Preston Ross
Eighth Grade
Anna McCabe
Mythia Siebold
News Image: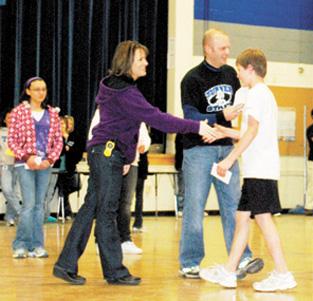 Long Description:
<p class="MsoNormal" style="margin-bottom: 0.0001pt;"><span style="font-size: small;"><span style="font-family: &quot;Times New Roman&quot;;">Sixth-grade student, Aiden Colton receives congratulations from Assistant Principal, Christine Smith. Aiden, and nine other TMS students were recognized for their kindness to others at an end of semester assembly. <br /></span></span></p>
<p>&nbsp;</p>
Category Lead:
Category Lead Story

Print This Post