By Sandy Barnes
Berthoud Recorder
Living in a craftsman-style home built almost a century ago helped inspire Dan Nibbelink to learn the traditional craft of blacksmithing.
Using techniques essentially unchanged since medieval times, Nibbelink has created decorative elements for his home also known as the Swanson House Bed and Breakfast.
From the towel racks in the upstairs bathroom to the rose-design knobs on the kitchen cabinets in the spacious home, Nibbelink's skill as a metalworker is evident.
A mechanical engineer by profession, Nibbelink began working in metal 20 years ago after studying with Francis Whitaker, a renowned blacksmith who taught classes at the Colorado Rocky Mountain School in Carbondale. He also joined the Rocky Mountain Blacksmith's Association, which offers workshops, conferences and opportunities for blacksmiths to meet each other.
"People talk about it being a lost craft … [But] in the United States, there is quite a renewal of interest in blacksmithing," said Nibbelink. The Colorado blacksmith's organization has 150 members and the national affiliate organization, the Artists-Blacksmiths' Association of North America, has more than 5,000 members, he noted.
Nibbelink's workshop beside his home has a variety of equipment he uses to transform metal, mostly of the mild steel variety, into carefully created pieces of art. To heat the metal, he uses both coal and gas forges. Once the raw material is hot enough to work with, Nibbelink shapes it with small and large tools ranging from chisels to a treadle hammer, band saw, belt grinder and fly press.
"It's kind of like working with clay," he said about metalworking. "You've got to get it hot and hit it hard."
When working with the hot metal, Nibbelink carefully uses tongs to keep from getting burned. He said that traditionally blacksmiths use the back of their hands to test metal for its degree of heat. Using this method keeps fingers from getting burned, so that they can still work.
Although at times he uses protective gloves, Nibblelink said that when he is actually forging, he uses bare hands, as do traditional blacksmiths.
The largest piece that Nibbelink created is a railing for the back steps to his home. And perhaps his most unique and visible work is on the Rialto Theater building in Loveland. When the vintage theater was preserved and restored several years ago, the metal exterior lamps needing replacing. Nibbelink created new ones for the renovation project
News Image: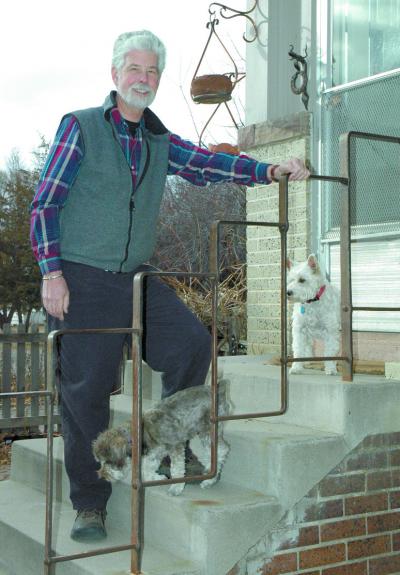 News Image: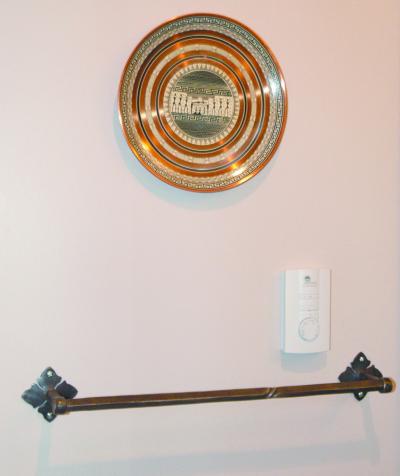 News Image: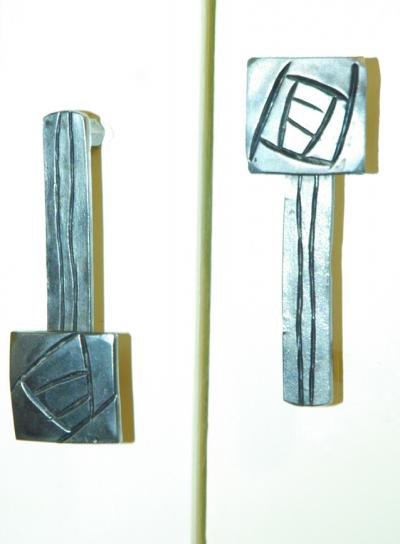 News Image: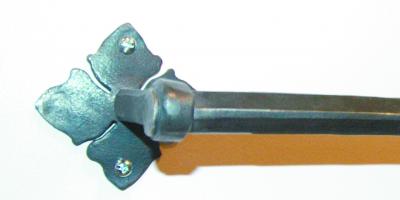 Long Description:
<p>Dan Nibbelink stands beside a metal railing he created for the back steps of his home.</p>
<p>&nbsp;</p>
Long Description:
<p><span style="font-size: small;"><span style="font-family: times new roman,times;">Dan Nibbelink stands beside a metal railing he created for the back steps of his home.</span></span></p>
<p>&nbsp;</p>
Long Description:
<p><span style="font-size: small;"><span style="font-family: times new roman,times;">This towel rack was created by Dan Nibbelink in his workshop.</span></span></p>
<p>&nbsp;</p>
<p>&nbsp;</p>
Long Description:
<p><span style="font-size: small;"><span style="font-family: times new roman,times;">The intricate detail on these door knobs for kitchen cabinets is an example of Nibbelink&rsquo;s&nbsp; craft.</span></span></p>
Long Description:
<p><span style="font-size: small;"><span style="font-family: times new roman,times;">A detailed view of the towel rack.</span></span></p>
Category Lead:
Category Primary Featured Story

Print This Post