By Gary Wamsley
Berthoud Recorder
The library board met on Thursday evening, Jan 22. They will have many important issues to address as they assume operation from the Town of Berthoud.
Treasurer Peg Obenhause has gone over the minutes of board meetings going back as far as 1993 in order to determine just what funds belong in the "Building Fund." Her recommendation was to divide the approximately $130, 000 now allocated into $100,000 in the capital improvement fund and the remaining amount to be made available for building maintenance, repair and upgrade. The board agreed.
Director Sara Wright reported on a quote for additional security measures that would include a motion detector in the office area, a keypad at the employee entrance and arming the doors. The installation costs were $449 and an increase of $6 per month in monitoring and reporting costs. Under advisement are further security measures.
The directors also listened to a presentation of a proposed project by the Friends of the Library to enhance the library entrance.
In other business, the board approved the use of the new copier/printer as a public access copy and fax machine and established prices for those services. Wright noted there is presently no public access copier available in Berthoud and felt it was a service the library could, and should, provide.
Wright also asked for approval of library holiday closures. She noted she wanted the library open on the traditional holidays of Martin Luther King, Jr. Day, President's day and Veteran's day because kids are out of school that day. She proposed three personal days for staff to make up for those holiday periods.
The board will hold a special session on Feb. 3 at 7 p.m. to discuss the Intergovernmental Agreement with the Town of Berthoud.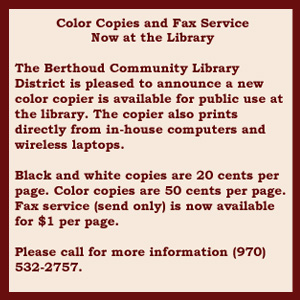 News Image: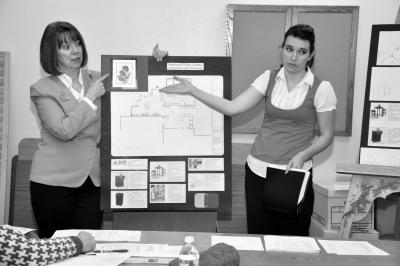 Long Description:
<p class="MsoNormal"><span style="font-size: small;"><span style="font-family: times new roman,times;">Ruth Gassner and Lindsay Friend present a design concept for the entry and lobby of the Berthoud Community Library at last week&rsquo;s library board meeting. The project to make the entry more attractive and more efficient was proposed by the Friends of the Library, who asked Front Range Community College if they had any students willing to take on the design task for free. </span></span></p>
<p class="MsoNormal"><span style="font-size: small;"><span style="font-family: times new roman,times;">Gassner, a local businesswoman, jumped at the opportunity and Friend, who was working on her associates&rsquo; degree in design, also eagerly took on the job. Combining Gassner&rsquo;s skill in space and design and Friend&rsquo;s talent with color and texture, the two women developed a plan, complete with a shopping list and coffee bar, that comes in at approximately $2,000. </span></span></p>
<p class="MsoNormal"><span style="font-size: small;"><span style="font-family: times new roman,times;">The library board will vote at their next meeting on whether or not to give the go-ahead. If approved, the Friends of the Library, who will pay for the project, will bring the issue to their board for approval for the expenditure. </span></span></p>
<p>&nbsp;</p>
Category Lead:
Category Lead Story

Print This Post