By Michael Hicks
Berthoud Recorder
Preston Pickert sat on the bleachers at Berthoud High School on Saturday afternoon, clutching the medal he had just won. The 13-year-old had just finished a long day of wrestling at the Metro League Wrestling District 3 tournament, which included clubs from Berthoud, Boulder, Estes Park and Greeley among others.He could've been doing a number of things to keep himself occupied. But instead of staying home and watching TV or playing video games, Preston was wrestling — something he knew from an early age he wanted to get involved with. For him, like many others, it's a family thing.
"You can be really physical. You don't have to worry about hurting somebody else," said Preston, the son of Berthoud High School wrestling head coach Scott Pickert.
That's the lure for Preston, who started wrestling when he was four. Although he plays football as well, it's just not the same adrenaline rush as being on the mat one-on-one with your opponent.
"In wrestling, you can really do what you want. You don't have to do what somebody else does," Preston noted.
Wrestling in Berthoud isn't just a recreational activity — it's a way of life. That's where the Berthoud Wrestling Club comes in. The program, now in its second decade of existence, is the foundation for the next generation of high school grapplers.
Under the present leadership of acting president John Ellis, the BWC is home to approximately 45 to 50 wrestlers, all looking to be the next Jared Wikre, Nick Henderson or Graeden Sadlo, current starters on the high school team.
On most Saturdays, wrestlers ages four-to-14, and weighing anywhere from 34 to 185 pounds, take the mat for the Berthoud Wrestling Club. They're not only trying to represent their community well and win for themselves, but they're learning a whole lot more.
"There are several ways to look at what were trying to do here," said Ellis, who is in his ninth year with the club. "One is to look in the distance and see if it's a college thing they want to do. (But) what really is good is they're learning, especially, how to be tough, how to win and lose, how to be a good sport with either one. How to care about people, and we make a ton of friends here."
Most of the wrestlers that come through the club have a previous attachment to it. One of those connections is current Spartan 135-pounder Curtis Martinez. The Berthoud senior joined partially because of his father James, one of the club's original founders. From the time he was four up until 11, Martinez wrestled with the BWC before transferring to Mountain View High School. He returned to Berthoud in time for his junior season.
Alongside current teammates Brandyn Wahlert, J.T. Pickert, Cory Ellis, Sadlo, Robbie Workman, Wikre and Josh Atkinson, Martinez worked his way up from toddler to the high school wrestler he is today all because of the BWC.
"I give a lot of credit to the Berthoud Wrestling Club for my success. My first coach there worked with me. My dad was my coach for a little while. It was a good club," Martinez said.
Alex Kingsley certainly enjoys it. The 14-year-old Turner Middle School eighth-grader has been with the club since he was four. He was introduced to wrestling through his family — he has three uncles who wrestled.
"It's fun. You get awarded stuff if you do good," Alex said.
Unlike Preston Pickert though, wrestling for Alex, who is in his last year in the program, isn't the end-all. A baseball player as well, the 105-pounder said he actually prefers football, but that doesn't stop him from dreaming about winning a state wrestling championship once he moves on to high school next season. And if he does, he'll have the BWC to credit for his success.
"The coaches are really good. They've helped me a lot," Alex said. "My uncles have really worked with me."
But maybe nobody has been a bigger help than the parents and friends of the wrestlers. Ellis said this year every family involved has stepped up stronger than ever. They've made the Berthoud Wrestling Club more than just about the wrestlers or the coaches. They've made it their own.
Ellis sees a bright future ahead. "Seeing that we have so many families who stepped up this year, I can only see it getting bigger," Ellis said. "There are dads stepping up to be coaches, moms stepping up to be coaches. We had probably, I'd say, about 18 different adults working (Saturday) at our gym from our club only."
From coaching to working tables, concession stands, taking raffle tickets and checking on paperwork, adults, mostly parents were out in full-force helping the cause. That's why the Berthoud Wrestling Club is not about one particular person, as Ellis likes to say. It's about the coaches. It's about the parents. It's about the wrestlers. In short, it's about the club.
REGION 2 TOURNAMENT
When: Saturday, 8 a.m.
Where: Valley High School (East Gym), Gilcrest
Tickets: $5, $3 for students and senior citizens; free for ages 5-and-under
Age groups: 6 to 14
Weight: 34 pounds to heavyweight
Clubs: Berthoud, Boulder, Broomfield, Cheyenne Kings, Estes Park, Greeley, Johnstown, Lincoln, Longmont, Monarch, Mountain View, Niwot, Silverbacks, Team Braves, Thompson Valley, Valley, Windsor
Note: State tournament will be Feb. 7 in Greeley
News Image: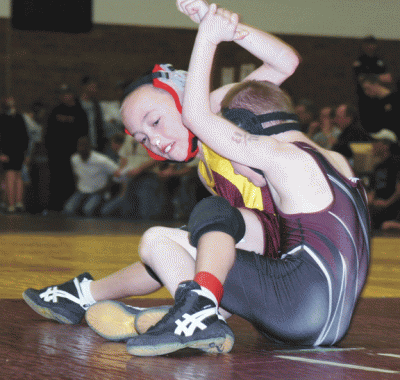 News Image: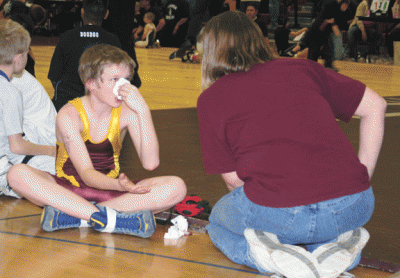 News Image: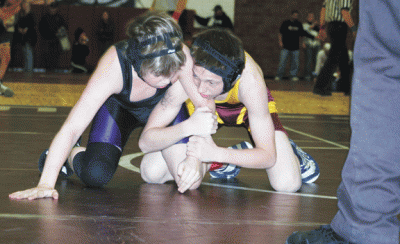 News Image: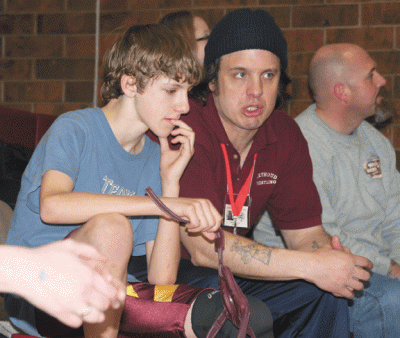 Long Description:
<p>Eight-and-under wrestler Tristan Workman looks for an advantage during one of his matches Saturday at the District 3 tournament at Berthoud High School.</p>
Long Description:
<p>Jenny Beath, right, is one of the parent coaches in the club as she attends to her son, Bruce, while he recovers from a bloody nose.</p>
Long Description:
<p>Berthoud Wrestling Club member Alex Kingsley, right, works the left arm of his opponent Saturday afternoon at Berthoud High School during the District 3 tournament.</p>
Long Description:
<p>Wrestling coach Bill Staley, right, talks with Jonathan Smythe, a Berthoud Wrestling Club member from Greeley.</p>
Category Lead:
Category Primary Featured Story

Print This Post