By Michael Hicks
Berthoud Recorder
LONGMONT — Randy Earl knew what he wanted to say about what appeared to be a foul on Berthoud starter Danielle Wikre with 5.8 seconds left in regulation and his Spartans down one, but he couldn't.
"You know, in the NBA, that will get me fined because if I told the truth …" Earl said.
What the girls' basketball coach couldn't say about Friday's 44-41 loss at Skyline, Wikre could say. Well, almost.
"Yeah, because I tripped over her, but …" said Wikre about whether she thought she was fouled on the way to basket in the closing seconds and her team trailing 42-41. Instead of shooting two free throws that could've either tied the game or put Berthoud in the lead for the first time since early in the second quarter, the Spartans turned the ball over.
Skyline's Christie Heil made two foul shots with 1.9 seconds left to ice the game and send Berthoud to its fifth straight defeat.
"One thing we're doing against Greeley West on Wednesday and again tonight, in the last four to five minutes of the game we really played pretty good," Earl said. "We were in the same situation against Greeley West. It ended up being six, but it was a lot closer than that. They hit free throws in the end. The same thing. We've got to play the same way the whole game not just the last four, five, six minutes and we're not doing that."
Berthoud started off pretty well, scoring the game's first six points and leading 14-10 after one quarter. But things fell apart in the second when the Lady Spartans managed just five points and trailed by five, 24-19, at intermission.
"In the second quarter we weren't hitting any shots. We were 1-for-12," Earl said. "They weren't great shots, but they weren't bad shots. We should've been better than 1-for-12, that's for sure. That's the biggest thing. We've got to get shots and we're not doing that."
Things got better in the third quarter once Berthoud (4-8, 3-6 4A Northern Conference) found its groove. The Lady Spartans went on an 8-4 run to cut their deficit to one, but Skyline scored 14 of the next 19 points to push its lead to 42-32 with 2 minutes, 16 seconds left in regulation.
Then Sarah Loberg hit a turnaround jumper, Ekart added two free throws and a 3-pointer and Rose Heaphy scored on another turnaround to cut the score to 42-41 with 18 seconds left. That's when the drama really began.
Heil was fouled, but missed the front-end of a one-and-one free-throw opportunity to set up the game's final sequence.
"We've got to quit leaving it to the last five minutes of the game. We need to step it up in the first three quarters. We waited until the last quarter and then we just run out of time when we do something," Ekart said. "We get it to one point down and then they're shooting free throws. We should be the ones shooting free throws not them."
SKYLINE 44, BERTHOUD 41
BERTHOUD 14 5 8 14–41
SKYLINE 10 14 8 12–44
Berthoud: Megan McGinn 2 0-0 4; Amy Ekart 6 4-6 19; Kacey Fagler 0 0-0 0; Danielle Wikre 2 3-6 7; Rose Heaphy 3 1-2 7; Sarah Loberg 2 0-2 4. TOTALS: 15 8-16 41.
Skyline: Kylee Hoagland 4 3-4 13; Cortney Martin 3 1-2 7; Ashley Torres 2 0-1 6; Bianca Fierro 1 2-2 4; Christie Heil 3 2-4 8; Mollie Jones 2 2-3 6; Kayla Seaver 0 0-0 0; Donne Elcock 0 0-0 0. TOTALS: 16 10-16 44.
3-POINTERS: Berthoud 3 (Ekart 3); Skyline 2 (Torres 2)
FOULED OUT: Berthoud (Heaphy)
TECHNICALS: None
News Image: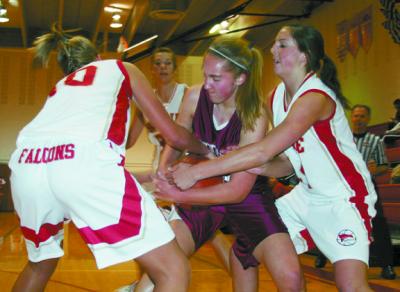 Long Description:
<p><span style="font-size: x-small;"><span style="font-family: arial,helvetica,sans-serif;">Sarah Loberg, center,&nbsp;of Berthoud is trapped by two Skyline players as they battle for the ball during the Spartans' 44-41 loss Friday night in Longmont.</span></span></p>
Category Lead:
Category Secondary Featured Story

Print This Post