By Laurie Hindman
Berthoud Recorder
For Berthoud High School students who love hands-on science and engineering, but have no home lab or parents willing to let them experiment in the kitchen, they need look no further than room 208 on Thursday afternoons. That is when MESA Club (Math, Science, and Engineering Achievement) meets.
Under the guidance of science teachers Cristal Domenico and Scott Kindt, the club's sixteen students build, mix, create and destroy, while exploring chemistry, physics and engineering principles.
"The MESA Club changes year to year," said Kindt. "It depends on what the students are interested in." Kindt described a project from last year in which the students built and launched large rockets carrying two eggs; the goal was to land the rocket without breaking the eggs. "We quit trying after we almost took out a few baseball players," recounted Kindt. On their last launch a rocket soared 850 feet before plummeting into the middle of the infield during practice. "We were too scared to launch another one," laughed Kindt.
This year the club has been involved in more "down to earth" projects such as soldering circuit boards, and building metal detectors, cordless amplifiers and most recently, wind turbines. They also hooked up copper tubing that had several openings to a gas jet, lit it, and watched the flames "dance" to the beat of rock music. "The kids loved that one," grinned Kindt.
Last Thursday was like a combination of an episode from "Bill Nye the Science Guy" and a scene from Discovery TV's "Myth Busters." The club, divided into teams of four, tested the wind turbines they had been building since before Christmas. Constructed of PVC pipe, Tinker Toys, a small motor and a variety of materials for the blades, the teams took turns placing their wind turbines before a large fan to see which one had the highest output on the voltmeter. The winners receive $50 gift certificates for Wal-Mart.
Team "AA" claimed the prize by producing 94 amps, beating out teams "IDK" at 32 amps and "Ghetto," at 18 amps.
"Dude, for Tinker Toys and old Obama signs, I think we did pretty good," exclaimed one "AA" team member.
The club followed the competition by testing an Internet myth that Mountain Dew, when mixed with a small amount of hydrogen peroxide and baking soda, glows in the dark. After careful mixing and darkening the room, the myth was declared, "busted."
What next? "The students will decide," said Domenico. "We will have to see what they come up with."
News Image: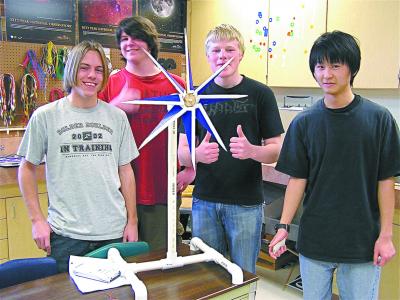 Long Description:
<p><span style="font-size: small;"><span style="font-family: times new roman,times;">Team &ldquo;AA&rdquo; shows off their wind turbine that produced 94 amps, beating out the other teams and winning $50 gift certificates. The BHS students created the turbines in MESA, a science club that meets after school on Thursdays. From left to right: Jack Kirk, Kyle Lanning, Cameron Paul, and Ryan Strong.</span></span></p>
Category Lead:
Category Primary Featured Story

Print This Post