By Taylor Lee
Berthoud Recorder
The Berthoud boys' basketball team defeated the Skyline Falcons on Friday night at home with another close nail-biting victory, 59-54.
The Spartans have been talking about having to put together four consecutive good quarters since the beginning of the season, and that's exactly what they did. With junior Joel Maly scoring the Spartans' first points and fellow junior Shane Hart sinking two free throws things got off to a good start for Berthoud (6-7, 6-4 4A Northern Conference), and they would only get better.
Maly scored 15 of the Spartans' 26 first-half points leading to a three-point lead at halftime.
In the second half, things continued to pick up for Berthoud with Hart scoring a 3-pointer to open the third quarter. After Skyline's Blaine Robinson, the leading scorer in the 4A Northern Conference, scored, the Spartans' Ryan Barron assisted Maly, who finished with a team-high 22 points, for two points to give Berthoud a 33-28 lead.
Barron hit a free throw to open the fourth quarter to tie the score after Skyline's Derrick Bleeker had given the Falcons (6-8, 5-6) a one-point lead. The Spartans then pushed out to a five-point lead after senior Jeff Shields scored. That's when everything went chaotic for the Falcons.
Skyline head coach Brandon Knudsen was called for a technical foul. Hart scored four straight points for the Spartans. And even though Barron wasn't able to convert on his own free throws, Berthoud still held the lead.
The Falcons' Matt Shea tightened the score to 55-51, but Knudsen was called for another technical, forcing him to exit the game. Hart, who added 16 points, hit one of two free throws.
When Robinson scored again, all the Falcons needed was a 3-pointer to tie the game. But Berthoud's Marcus Mathiesen was fouled twice in the final minutes of the game. He hit two of four free throws for the final score.
"We finally put together four good quarters of basketball," Maly said. "Now we need to work on our free throws."
News Image: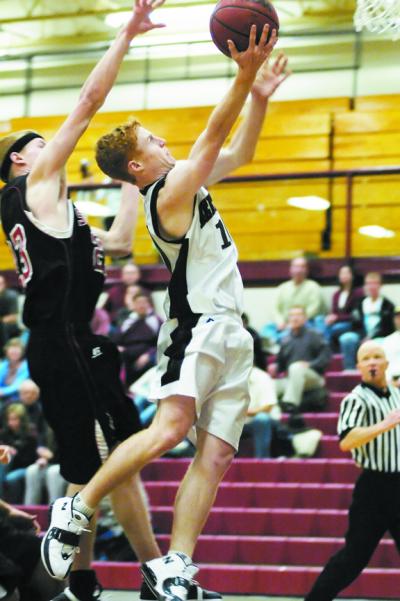 News Image: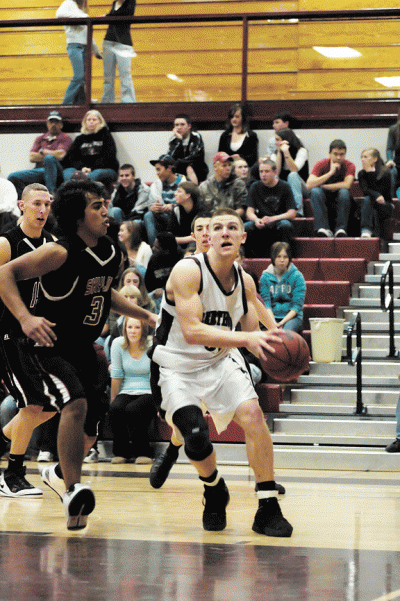 Long Description:
<p>Berthoud's Ryan Barron, front, drives to the basket for two points in the Spartans' 59-54 victory over Skyline on Friday night.</p>
Long Description:
<p>The Spartans' Joel Maly has led Berthoud's boys' basketball team to six victories in the 4A Northern Conference this season.</p>
Category Lead:
Category Primary Featured Story

Print This Post