This week students at Berthoud schools are taking part in a Kids Helping Kids campaign to raise funds for families in the community needing support.
Sponsored by Berthoud CARES, the funds generated by the effort will be used to provide assistance for children and families faced with short-term crisis situations with needs not met by other public and private agencies.
Those who would like to make contributions can find donation canisters at Berthoud and Ivy Stockwell elementary schools and Berthoud High School the week of Feb. 9-13. Each school is working to encourage donations from students and staff.
Berthoud High also is planning special activities during the week and designating teachers for special canister drives. Teachers collecting the most funds will be selected to perform a variety of entertaining activities for the student body.
Turner Middle School is participating in the campaign by donating a percentage of their proceeds from its Bob Turner Classic Run/Walk and will be making a similar contribution for this year's event.
Donations to Kids Helping Kids also may be brought to Berthoud Community Center, Hays Market and Home State Bank during the week.
"We are hopeful that this will become an annual community campaign," said Martha Simmons of Berthoud CARES. "We are delighted at the response from the school administrators and anticipate equal response from the students and families within our community."
News Image: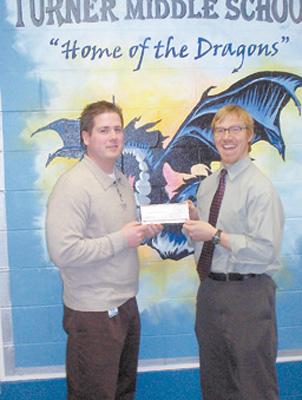 Long Description:
<p><span style="font-size: small;"><span style="font-family: times new roman,times;">Turner Middle School Principal Bill Siebers (left) and Bob Turner Race Coordinator Curt Ranweiler present a check for $600 to Berthoud CARES from 2008 race proceeds. They will be presenting another check to Kids Helping Kids following the 2009 Bob Turner Classic Run/Walk this spring.</span></span></p>
Category Lead:
Category Lead Story

Print This Post