By Janelle Hunt, M.S.
A famous saying about eating disorders states, "It's not what you're eating. It's what's eating you." This comment speaks to the conventional wisdom that mental health practitioners treat eating disorders by looking at the underlying reasons a patient eats abnormally. Behaviors around food are a symptom of a problem, not the problem itself. Dietitians can be extremely helpful in helping eating disorder patients to normalize their eating patterns.

"Normal eating" involves eating when hungry, continuing to eat until satisfied and choosing food because it fulfills a craving or desire rather than what society says should be eaten. "Normal Eating" is occasionally eating because one is happy, sad or bored, and even over- or under-eating at times.
When someone with an eating disorder begins to seek treatment, the mind and body are already in a compromised state due to the effects of the dieting mentality and behaviors. When treating a patient with an eating disorder, the focus is placed on restoring intuitive eating again so that he or she can learn to recognize actual hunger cues.
When a dietitian begins to see a patient, it is critical to work closely with the patient's therapist to identify the core issues that are manifested in the patient's unhealthy eating patterns. The dietitian's role is to gain trust with patients and ask them to replace their control around food with a structured meal plan. When patients are able to relinquish this control, they learn to trust their own bodies, allowing their metabolism and weight to begin to normalize. This helps them learn to work towards intuitive eating.
Mixed messages from society make it difficult for anyone to have normal eating patterns. Oversized portions are frequently served at restaurants, and the media bombards us with the latest diet trends or new ways to be thin. Americans spend more than $40 billion a year on dieting-related products, and although dieting may not always cause an eating disorder, it does train the mind to constantly focus on body image, fat, carbohydrates and calories. Ironically, dieting actually suppresses metabolism, thereby making it harder to lose weight or maintain a healthy weight over time. Diets also tend to eliminate important nutrients and when continued long-term can lead to numerous physical side effects and decreased mental function. A diet-obsessed mindset can quickly cause someone to ignore his/her body's needs and desires.
Janelle Hunt, M.S., is a Registered Dietitian at the Eating Disorder Center of Denver. Ms. She has worked with patients with various nutritional concerns including diabetes, coronary heart disease, eating disorders and weight management. For more information about the EDCD, visit www.edcdenver.com.
Category:
Special Section – Health and Wellness
News Image: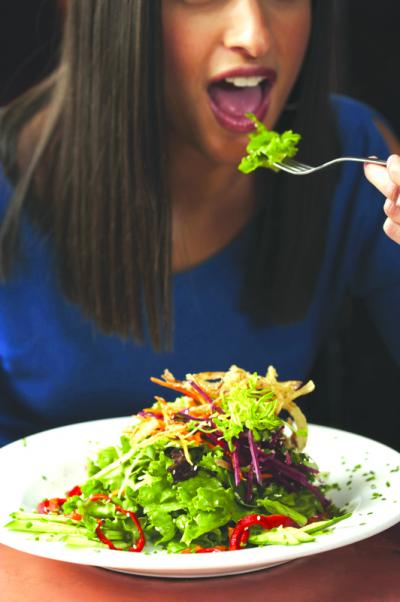 Category Lead:
Category Secondary Featured Story

Print This Post