By Megan Reece
Berthoud Recorder / Lyons Recorder
The building is an island; not only in its location in Longmont, but in the services it offers. Frontier Therapy Center of Longmont, combined with The Peaks Care Center, is the only short-term stay therapy center between Denver and Loveland, according to Jean Mendez. "We're really lucky," she says of the new Frontier Therapy Center, which opened right before Christmas, and is already receiving glowing feedback.
Though the two facilities are under one roof, Mendez points out that they might as well be different buildings. The therapy center, the assisted living facility and the nursing home are all kept separate. This is for the comfort of each resident in the facility, and for the comfort of their families and other visitors.
Comfort is high on the list at The Peaks Care Center and Frontier Therapy Center. Throughout the building are little reminders that this is where the residents call home. Room doors are decorated to reflect the individuality of their residents. All of the assisted living facility's rooms are private so that each resident knows he or she has personal space. A sitting area — complete with fireplace — is nestled in a corner. The director of assisted living is also a photographer and has hung photographs of the residents on the walls. There are warm, homely touches around every corner.
The assisted living facility and the nursing home are meant for long-term residents, but Frontier Therapy Center is available to all members of the community who need short-term care and physical therapy for an injury. The center is also Medicare certified, so its use is simple for senior citizens.
The center's staff works hard to quash the stereotypes against assisted living facilities and nursing homes. Visiting hours are never restricted, the residents can do their own laundry and kitchen space is available if they like to cook for themselves. On admission to any part of the facility, residents receive a free massage, as well as a free haircut and style from staff at one of the on-site beauty parlors. The café has daily specials, as well as a menu full of choices for breakfast, lunch and dinner, and visitors may order guest trays so that they can eat with the residents.
In the Frontier Therapy Center, the therapy room sports a Wii and a Wii Fit, as well as numerous upper and lower body strengthening machines. The therapists have a reputation around the facility as well. "When they're not killing me, they're helping me!" exclaims Dora Thiel, a resident of the therapy center. She came in after breaking her hip in January and is starting to see real improvement in her movement, thanks largely to her physical therapists. Because of her hip and her severe macular degeneration, Thiel will be transitioning to the assisted living facility once she has finished her therapy. She says she was apprehensive to come to Frontier Therapy Center at first, but soon realized that her pre-conceptions of such facilities did not apply here. "This is a wonderful place," Thiel says. She raves about "the girls" at the facility, who do everything from helping her find items on her food tray, to bringing her a daily bowl of ice cream, to greeting her in the hallway. "This place has a very pleasant appearance to people," Thiel says, and expresses excitement over getting her own room in assisted living.
Mendez says that when residents are ready to return home after a stay at Frontier Therapy Center, they must spend at least one night in a transitional apartment, complete with kitchen and bathtub, so that their movements can be honed and evaluated by therapists. Once they determine that a resident can return home, a therapist visits the house to do a safety check. The therapist will remove throw rugs, determine whether safety bars must be installed in the shower or on the bed and re-arrange furniture to accommodate the former resident's injury. Residents "come here to visit, not to live," says Mendez of the therapy center. The staff at the facility sees to its job of getting people healthy, strong and independent so that they can live high-quality lives away from the center.
But if they do need to transition into assisted living, they will not want for lack of socialization, kind staff or daily bowls of ice cream.
Category:
Special Section – Health and Wellness
News Image: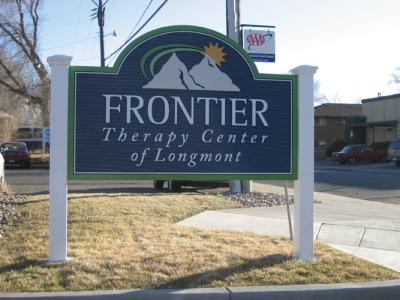 News Image:
Long Description:
<p>Frontier Therapy Center</p>
Long Description:
<p>Dora Thiel is staying at Frontier Therapy Center for help with her broken hip. Once she is healed, she will transition into the assisted living facility at The Peaks Care Center.</p>
Category Lead:
Category Primary Featured Story

Print This Post