Music teacher Mark Johnson leads Ivy Stockwell third-graders along the trail in their "Livin' Out West" showcase on Feb. 12. Parents and grandparents delight in watching and listening to the students play their horns and sing the songs of the West. The singing is only part of the showcase program and artwork adorned the hallways of the school.

Homeschooling: A Growing National Trend
By Laurie Hindman
Berthoud Recorder
According to the National Center for Education Statistics (NCES) homeschooling is growing in popularity, with approximately 1.5 million U.S. children learning at home in 2007, an increase of 74 percent from when the Department of Education first began tracking the trend in 1977.
A 2007 survey conducted by NCES found the top reasons why parents elect home education are concerns about the school environment (including safety, drugs and peer pressure), a desire to provide religious or moral instruction, a dissatisfaction with instruction at public schools and an interest in non-traditional approach to education.
Home schools range from the conventional to the eclectic and everything in between, with some parents opting for all inclusive, pre-packaged curriculum while others prefer to choose instructional materials from a variety of sources. Still others are followers of the "unschooling" philosophy believing that education should be driven by real life experiences including play, household responsibilities, social interaction, and outdoor activity.
Berthoud is home to numerous homeschooling families, and homeschool co-ops and networks. Over the next few weeks, the Berthoud Recorder will explore state laws regulating homeschooling, as well as the Thompson school district perspective and regulations. We will profile area families who have elected to educate their children at home, exploring their reasons for homeschooling, the curriculum and homeschool philosophies, as well as their perspective on the rewards and pitfalls of schooling at home.
Because the U.S. Constitution and the Bill of Rights do not specifically address education, home schooling is an issue for each state. While it is legal in all fifty states, some states are more "homeschool friendly" than others. Massachusetts, Minnesota and New York for example, are heavily regulated requiring home visits and curriculum approval.
In comparison, the state of Colorado is fairly liberal in its regulation of homeschooling. The law declares it is "the primary right and obligation of the parent to choose the proper education and training for children" and that homeschooled education is "a legitimate alternative to classroom attendance for the instruction of children." Parents are required to notify their school district in writing of their intent to home school.
Other requirements include tracking hours (like public schools, homeschooled students must include no less than 172 days of instruction, averaging four hours of instruction per day) and providing instruction in areas including reading, writing and speaking, mathematics, history, civics, literature, science and the Constitution of the United States. Homeschooled students must be evaluated at grades three, five, seven, nine, and 11 by a nationally recognized standard achievement test such as the Iowa Skills and Achievement or the Woodcock Johnson test.
Colorado law also states that a child may elect to attend their school district part-time and that the district is entitled to count the child as enrolled. Homeschooled students may participate in extracurricular or interscholastic activities, such as chess club or science fairs, at their designated school regardless of their status.
To be enrolled part-time in the Thompson School District a student needs to participate in at least 90 hours of instruction per semester. For an elementary school student this translates into roughly four and a half hours per week, for a middle school student about three classes per semester and for a high school student about two classes per semester.
Dennis Rastetter, Director of Student Outreach for the Thompson School District, said the District tries to work with homeschooling parents to help them achieve the best education for their children. "Our schools have been pretty open to homeschoolers and have tried to be flexible in accommodating part-time students," he said, "We are a family-friendly district."
News Image: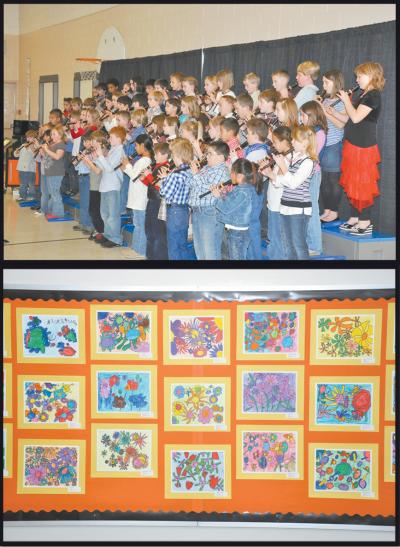 Long Description:
<p><span style="font-size: x-small;"><span style="font-family: times new roman,times;">Music teacher Mark Johnson and Ivy Stockwell third-graders. </span></span></p>
Category Lead:
Category Lead Story

Print This Post