By Jamie Folsom
Berthoud Recorder
Getting out and talking with the public in Town Hall meetings has become popular in Colorado political life over the last two years, and Rep. B.J. Nikkel made her first visit to Berthoud since being selected to the District 49 position last month. She met with a small group Saturday at the library community meeting room as the first stop of several around the area.
Joining her was State Sen. Kevin Lundberg, who has added town hall meetings with constituents to his agenda since the November elections.
Both Lundberg and Nikkel outlined legislation they are currently working on, including measures to expand public access to state budget records and construction budgets for new schools.
Nikkel is co-sponsoring House Bill 1288 that would require all state budget records be transferred to a public online database. She said the cost to transfer the records, already in electronic form, could be minimal and would make use of current staff. Nikkel cited Kansas as a state that previously made a similar change at no cost to the taxpayers.
Sen. Lundberg is sponsoring similar legislation in the Senate (SB 236) to require local school boards to hold public hearings on proposed new school construction and make the plans, schematics and proposed budgets available in some form before decisions are made.
Lundberg and Nikkel took questions from those gathered at the Town Hall meeting, most concerning the reinstatement of car emissions testing in Larimer and Weld counties. Rep. Randy Fischer (D-Dist. 53) and Sen. Bob Bacon (D-14) have introduced the joint bill, which would require bi-annual emissions testing for vehicles more than four years old.
Lundberg was highly critical of the bill, saying it was not necessary to stay in compliance with EPA regulations. With the rapid regional growth of population from the mid 90s to 2004, car emissions have increased, and according to Sen. Bacon, this potentially puts northern Colorado at risk for loss of federal transportation funds to improve and maintain highways. In addition, both Bacon and Fischer, the latter has a background in environmental engineering, have stated they are concerned about the regional air quality.
Nikkel and Lundberg asserted the increase in carbon emissions comes from pollution drift originating in the Denver metro area and moving up along the Platte River basin. Nikkel was also critical of the proposed bill as unnecessary, and stated that northern Colorado is in compliance with EPA regulations currently.
At the end of the meeting, Nikkel encouraged he attendees to visit and watch a legislative session at the capitol in Denver.
News Image: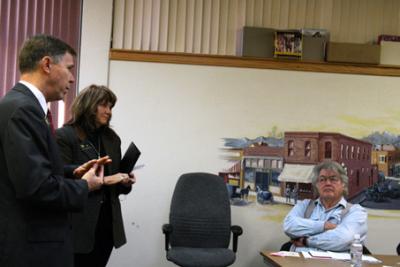 Long Description:
<p>State Sen. Kevin Lundberg and Rep. B.J. Nikkel talk pocketbook concerns with local residents Saturday, Feb. 21.</p>
Category Lead:
Category Lead Story
Home Lead:
Home Page Secondary Featured Story

Print This Post