By Jamie Folsom
Berthoud Recorder
When this series of graphic novels debuted in the mid-'80s, it set off a revolution in superhero comics. And similarly, the film noir-style aging anti-heroes in the film adaptation of "Watchmen" bring a new complexity to the screen on the heels of "The Dark Knight." You know Batman is a good guy, and the Joker is a sick and terrifying villain, but what do you do when the supposed heroes themselves are sick and terrifying?
Set in 1985, "Watchmen" are vigilante-style crime fighters in an alternative version of American history where Nixon never resigned and humankind is morbidly fascinated with nuclear annihilation. Originally begun as the Minutemen during the Depression era, some of these masked crimefighters retired, some got jobs with the government, some passed their legacy on to others, and some still secretly carry out their style of justice in the streets. The one-time masked heroes are now discredited and outlawed in a violent and unpredictable world.
It is three solid hours of beautiful and gripping movie-making. It stays true to the novels pretty closely, and the effects… WOW. This is the movie even author Alan Moore said couldn't be made, but the technology finally caught up with the vision of Dave Gibbons, who drew the original series. The plots are tightly interwoven, and the back-and-forth sequencing is the best I've seen in any movie in recent memory.
Some novel-purists might miss the giant squid, since it doesn't appear in the movie. I, for one, am very glad the screenwriters left it out. The movie's intended climax would have been spoiled by the sudden, and probably ridiculous, appearance of a destructive superbeast. It would have taken away from the suspense of the plot. This movie is about people — a psychological thriller wrapped in a bizarre, yet all-too-familiar, world. The real monsters are the people, and just who qualifies as "good guy" is the true mystery.
One final note — the novel has quotes from lyrics that always give you a few things to ponder between chapters (as they were originally separate). They are just as much a part of the story as the frames. The advantage of film is that it can give you the songs to chew on while you are watching events take place. Masterfully done, the soundtrack also sets this story apart from other adaptations of comic/graphic novels.
Yes, it's worth the price of admission. And because I know some will want to read the book (for the first time or again), the cost of the compilation is worth it as well.
---
Watchmen
Director: Zack Snyder
Writers: Alan Moore (graphic novel), David Hayter and Alex Tse (screenplay)
Cast: Malin Ackerman, Billy Crudup, Matthew Goode, Jackie Earle Hayley, Jeffrey Dean Morgan, Patrick Wilson
MPAA rating: R for very graphic violence, nudity and sexual content (I would rate it close to X)
Reviewer rating: 4.5 stars
Category:
Variety – Price of Admission
News Image: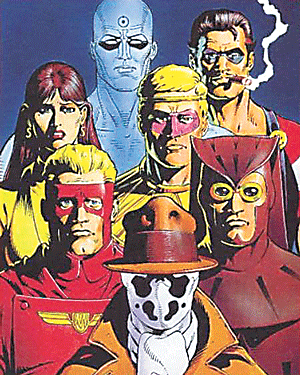 Print This Post