Budgets are tight, but Berthoud residents can still find deals at local restaurants. For the next several weeks the Recorder will highlight the best "meal deals" in town.
Santiago's Photo by Laurie Hindman
At $2, you can't beat Santiago's breakfast burrito for a quick, nutritious inexpensive morning meal. The burritos come stuffed with eggs, potatoes and cheese, accompanied by their famous green chile (hot, half and half or mild). Each weekday Santiago's features a different burrito, including ham, bacon, German sausage, chorizo and pork sausage. Vegetarian burritos are always available upon request.
For lunch and dinner the burritos win again—for $2 to $3 — hungry customers receive a bean, beef, chicken or carnita (pork) burrito that will barely fit on the plate. For an additional $1.25 you can smother it in delicious chile. Owners and managers, Martina and Ernesto Becerra said some couples split the large combo which includes a taco, tostada, cheese enchilada, bean burrito smothered with chile, tamale and beans and rice for only $9.
Category:
News – Business
News Image: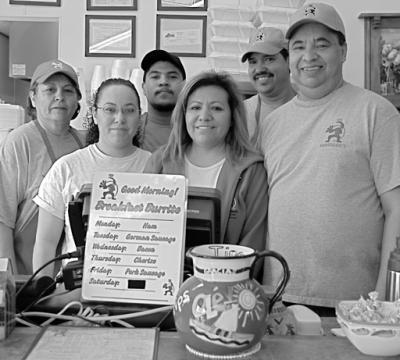 Long Description:
<p><span style="font-family: times new roman,times;"><span style="font-size: small;">Back row: Employees Maria, Fernando and Manuel. Front row: Employee Emily and owners, Martina and Ernesto Becerra.</span></span></p>
Category Lead:
Category Secondary Featured Story

Print This Post