By Bill Ciesla
CSU Master Gardener in Larimer County
Anyone who has recently visited high-elevation lodgepole pine forests in Colorado or southern Wyoming knows they're in trouble. Entire hillsides of tree crowns have turned a sickly red-brown color and died. The culprit is an insect known as the mountain pine beetle.
Late last summer, ornamental pines in several Front Range communities, including Berthoud, Fort Collins, Windsor and Loveland, were attacked by these insects. The beetles showed a definite preference for Scotch pine but occasionally other pines, including Austrian, eastern white pine, mugo and ponderosa pine were attacked. Ironically, the few lodgepole pines planted in these communities have not been attacked.
How did the beetles get here? They were likely transported by high winds, which occurred during mid- to late-August 2008.
The mountain pine beetle is a major killer of pine forests throughout the western United States and Canada. In Colorado forests, they attack limber, lodgepole and ponderosa pines. In past years, outbreaks have occurred in ponderosa pine forests along the Front Range. The adults are dark brown to black in color, cylindrical in shape and a little larger than a pinyon pine nut. They begin to emerge from trees attacked the previous year in late May and June and fly throughout the summer until September.
Adults bore through the bark and construct vertical egg galleries between the bark and the woody tissue, a region known as the cambium layer. If trees are healthy, the first attacks will be repelled by a flow of resin. The resin crystallizes on the bark surface and forms a "pitch tube." The beetles produce a chemical that attracts more beetles and results in a mass attack. Mass attacks can overcome the resin flow and beetles eventually make a successful entry into the tree.
Eggs hatch into white, "C-shaped" larvae. Larvae feed in galleries that are perpendicular to the egg galleries. When they finish feeding, they construct cells at the end of the gallery and pupate. The pupae develop into adults that emerge the following spring. Attacking beetles introduce a blue stain fungus into the attacked tree.
Trees that are successfully attacked by mountain pine beetle and associated blue stain fungi die. At higher elevations, the foliage of infested trees begins to turn yellow or red in late June, about a year after they are attacked. However, in Fort Collins, with our unusually dry winter and warm temperatures, successfully attacked pines are changing color right now.
Fortunately, only a portion of the trees attacked last summer in Front Range communities were successful. In Fort Collins, the city foresters inventoried many pines trees and identified over 300 as attacked. However, only 20 of these trees were successfully attacked and are dying. The remaining pines are "pitchouts" that appear to have survived. Successful attacks can now be identified by the presence of missing pieces of bark on the tree. This is caused by woodpeckers feeding on the larvae and pupae. Also, the needles of successfully attacked pines are turning yellow or red.
In addition, homeowners may want to consider applying a preventative spray to their larger pines, especially if neighboring trees were successfully attacked last summer and are not removed. Three insecticides, carbaryl (Sevin XLR, SL, 4L), permethrin (Astro, Dragnet) and bifenthrin (Onyx) are currently registered for prevention of mountain pine beetle attacks (check label for target pests before buying). In forested areas, preventative sprays should be applied before beetle flight. If applied properly, sprayed trees should be protected for one year. Contact your local CSU Extension office, city forester, professional forester or certified ISA arborist to evaluate your pines before making any decisions. A professional tree service should be used to remove successfully attacked pines or apply preventative sprays.
Successfully attacked pines should be removed and destroyed before the beetles fly to help prevent attacks in other pines. At low elevations, beetle flight could begin as early as May or sooner depending on temperature.
Will more pines be attacked by mountain pine beetle in Front Range communities this year? Unfortunately the answer is that more attacks are likely. There is lots of beetle activity in our lodgepole pine forests and if we again have strong winds from the west during beetle flight, or if currently infested trees are not removed, we could see more attacks this summer.
News Image: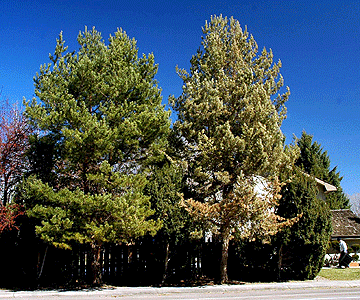 News Image: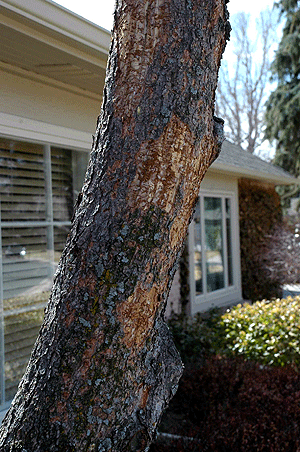 Category Lead:
Category Primary Featured Story

Print This Post