By Michael Hicks
Berthoud Recorder
Tye Duncan and Bryce Munoz have made for quite a one-two punch the past few years on Berthoud High School's football team. Now they just might do the same thing for Hastings College.
Duncan, the 5-foot-9, 140-pound wide receiver, signed his letter-of-intent to play for the National Association of Intercollegiate Athletics (NAIA) school in central Nebraska three days after Munoz did the same. Surrounded by his parents, John and Deann, and Berthoud coaches and officials — Rusty Mathena, Troy Diffendaffer and Colby Schultz — Duncan signed his athletic scholarship. He'll play football, but may also run with the track and field team as well.
He is the third member of the Berthoud football team — linebacker Alek Diffendaffer signed with the school last year — to join the Broncos. While the location and coaching staff played a role in Duncan's decision having Munoz on board was the icing on the cake.
"After visiting I really liked the area and the coaching staff. Knowing that Bryce is going there, I'll have a teammate that's already been signed," said Duncan, a second-team 3A all-state selection last year by The Rocky Mountain News and an honorable mention choice of The Denver Post. "We both visited. They're coaching staff came out here and talked to us. We just went out and visited together and both liked it."
Duncan, who caught 36 passes for 815 yards and eight touchdowns while also rushing for 172 yards and three scores, was also considering a walk-on deal at Idaho State, but getting a scholarship and continuing his playing days with Munoz made his decision that much easier. It doesn't hurt that Berthoud is starting to build a pipeline to Hastings.
"One of the things that will sometimes happens is once you get one kid to school, they've opened the door. There's some other kids that will come back and say, 'What do you think of this place?' " Coach Diffendaffer said. "(Now) they've got three neat guys who I think will really help Hastings football and make a good representation of Berthoud High. So, yeah, we've got a path that way."
Duncan, who plans to study business, joins a Hastings program that went 7-4 last season.
News Image: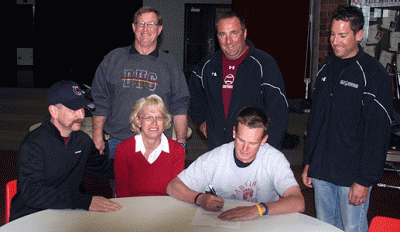 Long Description:
<p><span style="font-size: small;"><span style="font-family: arial,helvetica,sans-serif;">Surrounded by his parents, John and Deann, and Berthoud coaches and officials &mdash; Rusty Mathena, Troy Diffendaffer and Colby Schultz &mdash; Tye Duncan signs his athletic scholarship.</span></span></p>

Print This Post