By Michael Hicks
Berthoud Recorder
If there's one thing people can't say about John Cunningham it's that he's not hands-on. The Fort Collins businessman and owner of the Colorado Ice is intent on seeing his team succeed on and off the field.
Be it the free T-shirts that are doled out each game or the after-game autograph sessions, Cunningham is trying to make the Colorado Ice as fan-friendly as can be. On the field with Head Coach and General Manager Collins Sanders calling the shots, 18 of the Ice's 30 players have college ties with Colorado schools giving the team a familiar look. Players such as quarterback Justin Holland, formerly of Colorado State, or running back Terry Washington of Colorado, or Northern Colorado's Ryan Palmer, are all guys folks around here have probably heard of before. If they haven't then maybe they should take in a game. With an average crowd of 2,300 at the first three home games this season, there are tickets to be had to see Colorado's only indoor football team, at least this season.
A crowd of 2,268 came out Saturday night to see the Ice improve to 2-2 with a 61-30 rout of the Fairbanks Grizzlies at the Budweiser Events Center. From the opening play when Fairbanks quarterback Monte Purvis fumbled the football and Colorado defensive lineman Steve Frye, a Northern Colorado alum, scooped it up and rumbled 9 yards for the score to backup QB Miles Scheer's 17-yard scamper, the fans had plenty of reasons to celebrate the third-year Indoor Football League franchise.
It's that kind of excitement that has Cunningham pumped up about his team, which has won two straight after dropping its first two games on last-minute interceptions that thwarted potential game-winning drives. That and the fact that season-ticket sales are up, and people are starting to take notice.
"We've been averaging first three ball games about 2,300 people, so about half full. We've got the word out, and everybody knows that we're playing professional football here in northern Colorado," said Cunningham, who purchased the team last April early into the 2008 season, after the league had taken over control of the team from the previous owner. "People in northern Colorado are great sports fans, and they'll come out and support us and enjoy the experience of the games. We've had really good marketing. We're having a good time. I'm real confident that we'll have this place sold out just like the (CHL's Colorado) Eagles."
Now nobody can compare the Ice with their fellow Budweiser Events Center tenants, the Eagles, widely considered one of the best teams in the Central Hockey League. Any comparison would be unfair. The Eagles have been around three more seasons, have made the playoffs every year in their existence and have sold out the facility every game.
Meanwhile, like Saturday night, there are fare more empty seats than those filled at the Bud for Ice games. But if you believe Cunningham, that's going to change. Attendance has increased this season from last year, and that's something Cunningham's very happy about.
"Comparing last year to this year our season ticket-holders are almost double. Which we're very proud of, given the state of the economy," Cunningham said.
And by the looks of things on the field, the fans have more reasons to embrace this team. After consecutive six-win seasons that landed the team a fourth-place division finish and a first-round playoff exit in 2007, Colorado is .500 after four games and showing signs this year will be different. Saturday's game exemplified that when you consider an offensive lineman (Wayne Wilder) scored a 1-yard TD run, kick returner Josh Gibson returned a missed field goal 56 yards for a score, and the team forced four turnovers while only having possession of the ball for 20 minutes and 19 seconds.
For a game that is built around offense, the Ice not only displayed a defensive presence Saturday night, but did so and still scored 61 points. Frye's game-opening fumble recovery and score started the flurry of defensive highlights.
"It did. It started us off fast. We wanted to start fast tonight. We've been talking about it all week in practice," said defensive back Quentin Womack, who had his own highlight-reel play with a one-handed interception. "To get that big turnover on the first play it just helped to propel us for the rest of the game."
And, more plays like that will propel the Ice into the sports culture of northern Colorado.
---
COLORADO ICE 61, FAIRBANKS GRIZZLIES 30
FAIRBANKS 0 18 0 12-30
COLORADO 7 20 21 13-61
C — Steve Fry 9 fumble recovery (Rocky Stevens kick), 14:23
C — Wayne Wilder 1 run (Stevens kick), 13:04
F — Josh Crawford 3 pass from Justin Rummell (kick failed), 10:16
F — Safety, Asi Faoa sacks Justin Holland in end zone, 9:16
F — Lonnie Sanders 2 pass from Rummell (Brian Stuvek kick), 6:23
C — Josh Gibson 48 pass from Holland (Stuvek kick), 4:55
C — Terry Washington 1 run (kick failed), 0:16
F — Stuvek 38 field goal, 0:00
C — Washington 11 run (Stevens kick), 10:37
C — Gibson 56 kick return (Stevens kick), 7:14
C — Eugene Reed 6 run (Stevens kick), 1:25
F — Crawford 1 pass from Rummell (pass failed), 8:34
C — Joey Rucks 11 pass from Holland (pass failed), 7:10
F — Jaray Austin 12 pass from Rummell (pass failed), 4:49
C — Miles Scheer 17 run (Stevens kick), 3:50
RUSHING: Fairbanks — Monte Purvis 6-39, Denny Kimmell 9-23, Justin Rummell 1-8, Lonnie Sanders 1-5. Colorado — Terry Washington 8-57, Miles Scheer 1-17, Eugene Reed 4-12, Wayne Wilder 2-4.
PASSING: Fairbanks — Rummell 29-44-2, 224, Purvis 1-4-0, 3; Colorado — Holland 9-17-2, 121, Scheer 0-1-0, 0
RECEIVING: Fairbanks — Kimmell 9-96, Sanders 7-51, Josh Crawford 7-28, Purvis 3-17; Colorado — Josh Gibson 5-84, Washington 2-18, Joey Rucks 1-11, Eugene Reed 1-8.
FIRST DOWNS: Fairbanks 19; Colorado 13
TOTAL YARDS: Fairbanks 290; Colorado 172
PENALTIES: Fairbanks 12-86; Colorado 5-40
TURNOVERS: Fairbanks 4; Colorado 2
TIME OF POSSESSION: Fairbanks 39:41; Colorado 20:19
News Image: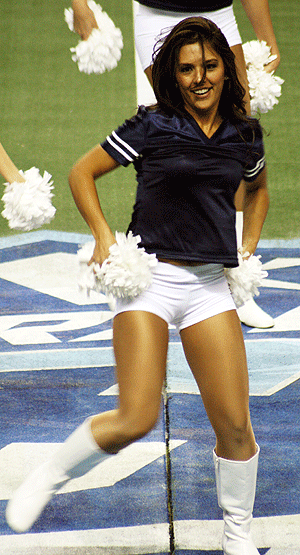 News Image: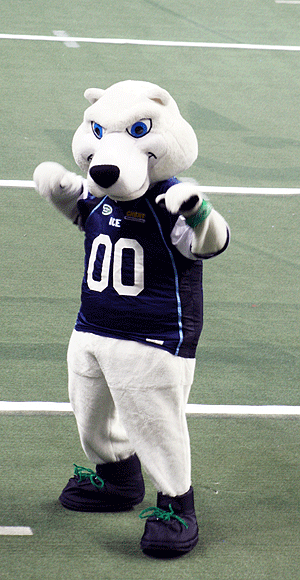 News Image: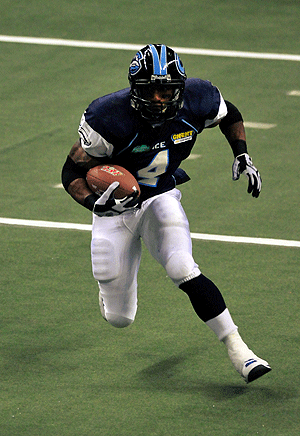 Long Description:
<p>A Colorado Ice cheerleader adds to the atmosphere at the Budweiser Events Center.</p>
Long Description:
<p>The Ice mascot, Glacier, entertains the crowd.</p>
Long Description:
<p>Running back Terry Washington adds to the Colorado arsenal.</p>
Category Lead:
Category Primary Featured Story

Print This Post