By Jamie Folsom
Berthoud Recorder
If sustained laughter is a good workout, then sign up for an evening of Nonesuch's Shakespeare parody and expect results.

Originally written in the mid-'80s by members of the Reduced Shakespeare Company in London, "The Complete Works of William Shakespeare (Abridged)" has been enormously popular over the years, mostly due to its high energy, spontaneity and irreverence. It is the longest running play in London.
Three of Nonesuch's favorite performers — Scott Shaffer, Jay Benedict Brown and Mark Johnson ' take on the task of performing all 37 plays and 154 sonnets in 97 minutes, but they don't do it alone. This show is filled with audience participation (even those of you who like to hide in the back row), bawdy improvisation and a ridiculous number of puns.
The gore-filled "Titus Andronicus" as a cooking show? All of the Bard's historical tragedies performed as a football game with a crown? The ugliest Juliet you'll ever see? Yes, yes and yes! Put on your stretch pants and enjoy.
---
The Complete Works of William Shakespeare (Abridged)
Based on the works of William Shakespeare
Stageplay: Adam Long, Daniel Singer and Jess Winfield
Director: Nick Turner
Cast: Jay Benedict Brown, Mark Johnson and Scott Shaffer
Runtime: 97 min. plus intermission
Approximate rating: PG-13
When: Playing now through June 13, Thursday through Saturday 7:30 p.m., Sundays 2 p.m.
Nonesuch Theater, 216 Pine St., Fort Collins
Tickets: $20 to $29.50, group rates available, purchase online at www.NonesuchTheater.com or by box office (970) 224-0444

News Image: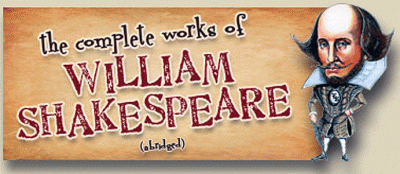 News Image: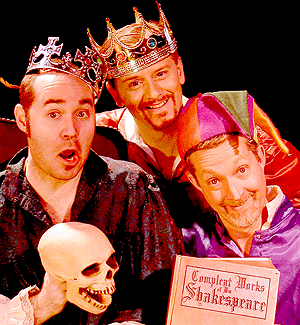 Print This Post