By Deborah Huth Price
Berthoud Recorder
There are many open spaces and parks to explore in Colorado. Hikes, outings and picnics are great opportunities for inexpensive family time, and a chance to connect with the natural world.
As with any activity, safety is something to consider — ensuring everyone ends up with a positive experience and pleasant memories.
Most hiking or outdoor safety, especially for children, has a lot to do with common sense. Here are a few tips:
Be Prepared. Things you should always have with you on an outing are: water to drink, sunscreen, bug spray, snacks or lunch, a rain poncho or jacket, and a simple first aid kit. A scratched finger or knee, or an allergic reaction to a plant or pollen is easy to prepare for with simple medications and bandages.

Carry Identification. This includes your driver's license, insurance card, and any other emergency or medical information. If something happens to you, it helps to have this information handy for anyone trying to assist.

Carry your cell phone. You don't necessarily have to have it on (it's nicer outdoors if you don't!) but in the event of an emergency, it's a good link to quick assistance. You may not always get reception, but it is surprising how often you do.

Make sure you and your children are wearing comfortable shoes for hiking or walking. A stubbed toe or a bruised heel can make for a long walk back.

Keep children close to you when hiking. Most negative wildlife encounters or attacks occur when children are allowed to run ahead by themselves. If you were walking somewhere in a city, you would do the same thing. If you do encounter a large animal like a bear or mountain lion, back away slowly –– don't run.

There are rattlesnakes in many of the open areas along the Front Range. Be aware of where you are walking, and if you see a snake, back away, give it plenty of room and walk around it. Snakes are not usually out to get you — they are just trying to protect themselves. If you or a child is bitten, the best thing to do is to get to a hospital as soon as possible.
When you visit an open area or park, there are usually safety tips and important information posted at kiosks. It's a good idea to read these before you begin a hike so you will be aware of all safety issues. However, an outing should never be overshadowed by fear of what may happen!
Some of the best discoveries are done with children. They have the ability to notice things that adults often miss. Some of my most cherished childhood memories are of vacations in national and state parks where we ventured on trails and camped in the woods.
Be ready to adapt your plans as well. It's not always that important to get to the top of a mountain or the end of the trail. The best discoveries with children are usually found along the way, in unexpected places.
---
Deborah Huth Price is Education Coordinator at Bobcat Ridge Natural Area near Masonville, and at Discovery Science Center in Fort Collins.
News Image: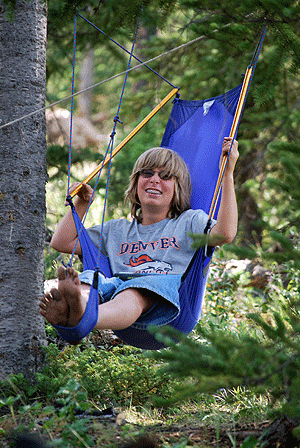 Long Description:
<p>Putting your feet up can become an outdoor adventure.</p>

Print This Post