By Gary Wamsley
Berthoud Recorder
Saturday's cool weather seemed perfect for the running of the Bob Turner Classic. According to event organizer, Curt Ranweiler, 110 people entered the race, but some must have been lost along the way as the final results showed only 104 finishers. The fastest time recorded for the race was by Craig Greenslit at 15:47. The slowest time recorded by a finisher was Nancy Greenslit at 53:26.
The day's festivities started off with the Dragon Dash for the littlest runners. Accompanied by the Dragon the winner was Ranweiler.
The serious running got under way at 8:30 a.m. and Spencer Golsan started off with the early lead going past the McCarty Fickel house but ended up finishing in 29th place at 24:36. Eventual winner Craig Greenslit, wearing number 167, paced himself at the beginning and finished at 15:47, almost a minute and half ahead of second place finisher Cody Bowmen. Darren Brungardt rounded out the top three with a time of 17:26.
Many of the runners were along for the fun and trying to meet a personal goal. Kyle Cavy finished a respectable 16th and Caroline Creager finished 25th, 21 seconds ahead of Thompson School District Superintendent, Dr. Ron Cabrera.
Valerie Bruce and her dogs arrived late, nearly 10 minutes after the race started, but she still finished in slightly over 40 minutes.
Every one seemed to have a good time and the event raised over $1,500.
Category:
News – Community
News Image: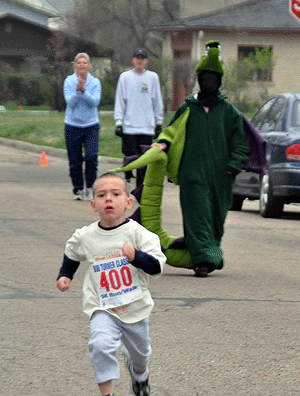 News Image: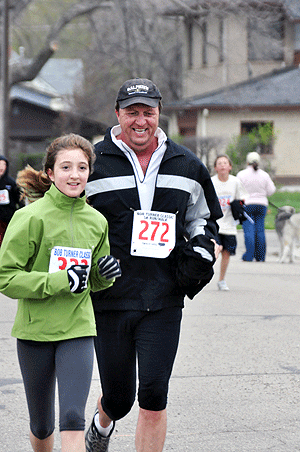 News Image: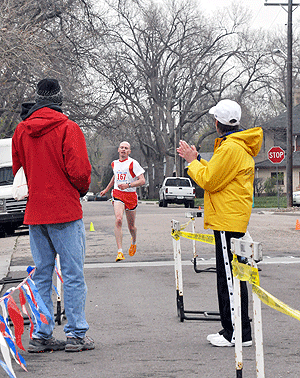 Long Description:
<p>Isaac Ranweiler shows great determination in winning the Dragon Dash, the kick off race of the Bob Turner Classic 5K Run/Walk. Results are available at http://fc.thompson.k12.co.us/~ranweilerc/bobturnerclassic.</p>
Long Description:
<p>Jack and Julia Debell took a leisurely pace, finishing in 76th and 77th place with a times slightly over 38 minutes.</p>
Long Description:
<p>Craig Greenslit crosses the finish line well ahead of his nearest competitor.</p>
Category Lead:
Category Lead Story
Home Lead:
Home Page Secondary Featured Story

Print This Post