By Taylor Lee
Berthoud Recorder
Who wouldn't want to see a football player East Coast swing with a petite English teacher or a basketball coach dance to hip-hop? Well, thanks to Berthoud High School's second annual Dancing with the Teachers on Friday, May 1, all of this — plus much more — was possible.
With 11 student-teacher couples, the audience saw everything from country swing and "Bollywood Beats" Indian dance to hip-hop, salsa, and a special guest appearance dance by Principal Leonard Sherman.

The couples who competed were junior Kenzie Buehler and construction teacher Tom Wirtz, foods teacher Tracey Olson and senior David Chrisp, math teacher Jeremy Lanter and senior Hallie Groenewald, and junior Chelsie Johnson and physical education teacher Troy Diffendaffer. Also, there was senior Dusti Waite and math teacher Mil Santos, senior Alex Stoez and Spanish student teacher Erica Eggleston, senior Jared Wikre and hall monitor Barb Connolly, art teacher Tamara Suppes and senior Robby Kleber, junior Nick Divine and science teacher Daisha Agho, senior Brad Dick and English teacher Kim Skoric, physical education teacher Pete Scheck and junior Jenna Colestock, and a special waltz from Chelsie Johnson and Principal Leonard Sherman.
Each couple was judged on their choreography, how the couple danced together, their costumes and overall appearance, how the audience reacted, and overall performance. After a long night of fun, laughs and the realization that some Berthoud High School teachers and students really can dance, the big winners were senior Robby Kleber and art teacher Tamara Suppes with their swing dance to "Stuck in the Middle with You."
News Image: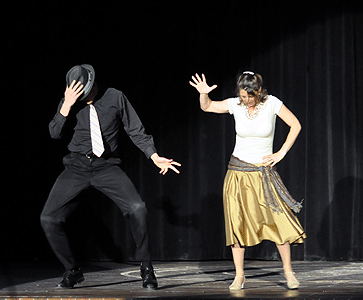 News Image: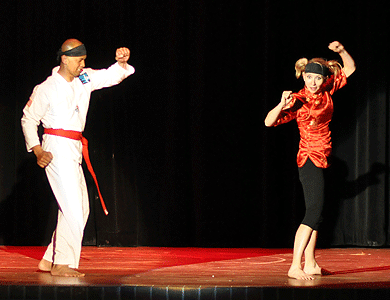 News Image: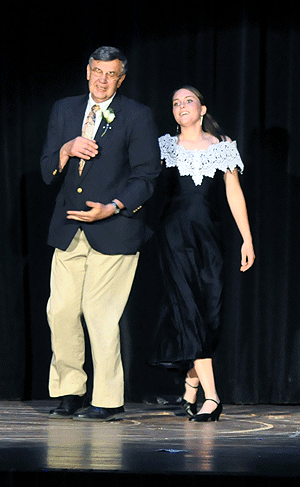 Long Description:
Tamara Suppes and Robby Kleber won the dance trophy with a very smooth and sophisticated swing.
Long Description:
Dusti Wait and Mil Santos performed a dynamic hip-hop number.
Long Description:
The last dance was a special appearance by Principal Leonard Sherman dancing the waltz with Chelsie Johnson.
Category Lead:
Category Lead Story

Print This Post