By Jamie Folsom
Berthoud Recorder
Congresswoman Betsy Markey fielded some tough questions from the community on her first visit to Berthoud Saturday, May 2. Approximately 20 area citizens came prepared to talk with Markey, and foremost on their minds were the economy, renewable energy, regulations on the credit industry and veterans.

Markey announced the recent House passage of HR 627 – the Credit Cardholders' Bill of Rights Act, which is now before the Senate. It would amend the Truth in Lending Act to ban certain practices such as double billing, changing penalty deadlines, interest rates and other terms of contract without advance notice. It also prohibits credit cards for those under the age of 18. Markey noted the bill doesn't include limits on interest rates themselves and would not go into effect until next year.

On the issue of building renewable energy markets in Colorado, Markey said she "believes in the science behind climate change," and hopes to see more development in the "clean fossil fuels," especially natural gas. She also noted that besides climate issues, developing the nation's resources would reduce dependence on "unstable and hostile" foreign nations.

Colorado had its first criminal case tried under the recently revised hate crimes law, and on the national level, Markey said she supports HB 1913, which extends the current law to include sexual orientation as a target group for crimes.
Although some citizens raised the question of special status for a class of people, and limitations on free speech, Markey explained the inclusion of sexual orientation gives judges and juries clear wording in which to make their decisions, and allows for extra penalties in sentencing.

Markey noted similar and stricter legislation exists in 45 states, and that it has strong bipartisan support.

At the end of the meeting, Markey also spent time answering questions one-on-one.
News Image: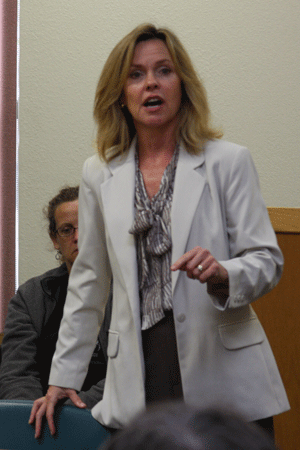 Long Description:
<p>U.S. Rep. Betsy Markey held an informal town meeting in Berthoud Saturday. Noting that 36 bridges in the Colorado 4th District are &ldquo;structurally deficient,&rdquo; Markey hopes to address vital funding shortages for infrastructure at the upcoming review of the federal transportation bill.</p>
Category Lead:
Category Primary Featured Story
Home Lead:
Home Page Secondary Featured Story

Print This Post