By Laurie Hindman
Berthoud Recorder
Mother's Day is Sunday, and while we moms cherish the little handprints with the poem about sticky fingerprints on the walls, lopsided pinch pots and hand-made plastic lanyards, we also really appreciate a little pampering. Fortunately for you dads and adult children, there are plenty of opportunities to pamper the mother(s) in your life, and you don't even have to leave town.
Many moms have a green thumb, and even if they don't, what's to stop you from picking out some nice bedding plants or flowering shrubs and doing a little gardening to brighten her day. L&M Garden Center, located on the east edge of Town on Highway 56, is holding it's annual Mother's Day Open House, Saturday from 8 a.m. to 6 p.m. and Sunday, 9 a.m. to 5 p.m.
There will be entertainment on Saturday with Chinese dancers, a harpist and face painting and free chair massages all weekend. Enjoy the free hotdogs and soda (look at that — you don't even need to buy lunch) and as an added bonus all hanging baskets and roses are 20 percent off. On Mother's Day receive a free birdbath or selected pottery with any purchase over $25.
As long as you are in that neck of the woods you MUST take Mom to see Brookside Gardens, the new spa, salon and event center, located just next door to L&M. We moms are often weary, stressed, sleepless or just plain cranky. A day at the spa (or heck, just an hour at the spa) can do wonders for our dispositions. Brookside is having it's grand opening; take a tour, register to win one of the many wonderful prizes and pick up a gift certificate for Mom for a facial, massage, manicure or pedicure, make up and hair cut, or one of the many luxurious spa treatments.
On Saturday afternoon, Mom might enjoy something elegant, peaceful, and well, something that doesn't involve males. The historic McCarty-Fickel House at 647 Seventh St., is hosting a Mother-Daughter high tea from 2 to 4 p.m. In addition to the full-tea with scones, tea sandwiches and fruit served by women dressed in Victorian era costumes, Cindy Webb, a milliner, will give a program on hats. Guests are welcome to dress for the occasion and hats are encouraged, but optional. For reservations call (970) 532-1916.
Bouquets of cut flowers never fail to bring a smile to Mom's face and with Berthoud finally having a florist again fresh flowers are no problem. Dynamic Floral Designs at 450 S. Eighth St., is open Saturday from 9 a.m. to 2 p.m. (or later, if necessary, says owner Julie Haworth). And for all you last-minute desperate dads or scatter-brained children, Haworth's shop is open Mother's Day from 9 a.m. to 1 p.m.
For the pièce de résistance Retro Bistro is offering a Mother's Day Brunch, Sunday from 11 a.m. to 3 p.m. For $19.95 per adult, $8.95 for children under 12, Mom can enjoy a scrumptious buffet that includes salmon with dill sauce, eggs Benedict, French crepes, prime rib, fruits and salads and of course, delicious desserts. Make sure you order Mom a couple Bloody Marys or Mimosas — it'll do wonders for her mood and she'll see that plastic lanyard and lopsided pinch pot in a whole new light.
After all that, the best you can offer Mom is a good long nap while you plant the pansies you bought at L&M and toss the salad ingredients you picked up at Hays Market (she's going to be stuffed from lunch). End the day with hugs and kisses (a little chocolate wouldn't hurt) and mom will have a Mother's Day she will never forget! After all, when mom's happy, everybody's happy. Hope my husband and boys are reading this.
Category:
News – Community
News Image: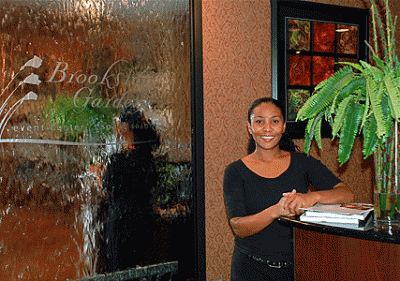 News Image:
Long Description:
<p>Brookside spa/salon manager Tanaia Bebo. The spa and event center grand opening is Saturday, 10 a.m. to 6 p.m.</p>
Long Description:
<p>Dynamic Floral Design will be open on Saturday and Sunday for those last-minute Mother&rsquo;s Day shoppers.</p>
Category Lead:
Category Lead Story