By Sandy Barnes
Berthoud Recorder
Town officials and citizens gathered on Mountain Avenue Saturday, May 2 to celebrate the completion of a downtown project with unanticipated challenges. The new sidewalks with decorative art, street lights and freshly planted trees and repaved road are the visible signs of a major rehabilitation initiated to replace aging underground utilities.
Calling it "a horrendous project to begin with," Public Works Director Tony Huerta said that it ultimately became a showcase project, which received an award. Huerta thanked Berthoud business and property owners and those who participated in the extensive effort, including Northern Colorado Constructors and other contractors. After two years of planning, phase one of the Mountain Avenue project began in June 2008. The final enhancements including benches, bike racks and hanging flower baskets are still in the process of completion.
During his remarks at the dedication ceremony, Town Administrator Jim White pointed out that the town received a $297,000 grant through the North Front Range Metropolitan Planning Organization for the first phase of the three-part project.
In addition to this funding, the Town also secured a Department of Local Affairs grant of $500,000 for phase one of the project and another in the same amount of phase two. The entire project is estimated to cost approximately $4.5 million.
Mayor Tom Patterson commended everyone involved in the project. "They've done a phenomenal amount of work," he said. Patterson also spoke about positive aspects of the Town and plans for its future at the Berthoud Economic Resource Team business appreciation breakfast held earlier in the morning at L&M Enterprises. "We're working hard to position Berthoud for the next stage of growth," he said.
The Mayor expressed appreciation to BERT members who are investing time and resources toward economic development efforts. "Development teams are looking for your customers," he said to business owners.
The Town contributed $1,200 for the breakfast organized by members of BERT and catered by Mark Chaffee of Berthoud Bed and Breakfast.
News Image: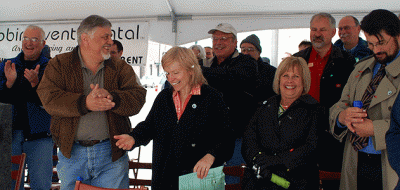 News Image: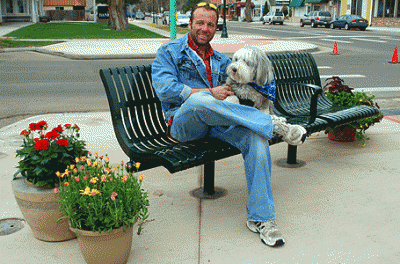 Long Description:
<p>&nbsp;Mountain Avenue dedication ceremony participants toss confetti.</p>
Long Description:
<p>Mayor Pro-Tem David Gregg enjoys sitting on a new bench with his dog Zoe at the Mountain Avenue dedication.</p>
Home Lead:
Home Page Lead Story