By Michael Hicks
Berthoud Recorder
LOVELAND — Stephanie Heaton and Kacey Fagler shot a team-best 95 and Brandi Peter fired a 96 as all three Berthoud golfers qualified for the 4A state golf tournament Wednesday at the Northern Regional at the Olde Course at Loveland.
In the program's previous 10 seasons, Berthoud qualified just four golfers for the 4A state tournament. Now, it has its fifth, sixth and seventh qualifiers all-time.
The state tournament will be held May 18-19 at Patty Jewett Golf Course in Colorado Springs. The two-day, 36-hole tournament tees off at 8:30 a.m. daily.
While Heaton was considered a possible state qualifier entering the tournament and Peter was a Berthoud favorite earlier this season, Fagler proved to be the team's biggest surprise. The junior golfer beat her season average by 16 strokes.
Broomfield, which won the regional team championship, was led by Molly Dorans' 80 — good enough for top individual honors. Besides the top team, the top eight individuals, not playing for Broomfield, also qualified for the 84-player state field.
Berthoud's other regional participant, Julia Perry, failed to qualify for state after shooting a 108. Her score tied her for 18th on Wednesday.
---
4A NORTHERN REGIONAL
OLDE COURSE, LOVELAND
TEAM SCORES: Broomfield 272,Greeley Central 278, Berthoud 286, Mountain View 313, Thompson Valley 317, Windsor 317, Estes Park 319, Fort Morgan 324, Roosevelt 381, Sterling 387
INDIVIDUALS: Molly Dorans, Broomfield, 80, Jesse O'Dell, Estes Park, 88, Kelsi Reinke, Greeley Central, 89, Michaela Breit, Greeley Central, 94, Rachel Bryslan, Broomfield, 94, Kacey Fagler, Berthoud, 95, Stephanie Heaton, Berthoud, 95, Courtney Walker, Greeley Central, 95, Brandi Peter, Berthoud, 96, Jessica Shadowen, Mountain View, 96, Lauren Mickelson, Thompson Valley, 97, Peyton Wilpolt, Broomfield, 98, Cassidy Miller, Windsor 99, Mizzy Slezak, Mountain View, 101, Danika Tibbetts, Fort Morgan, 102, Alex Briggs, Broomfield, 104, Kea Fisher, Windsor, 107, Shelby Klett, Greeley Central, 108, Julia Perry, Berthoud, 108, Samantha Wagner, Sterling, 108, Mariah Cooley, Thompson Valley, 109, Kendra Bohm, Fort Morgan, 110, Katy Baalke, Thompson Valley, 111, Evie Bangs, Estes Park, 111, Amanda Pennington, Windsor, 111, Jessica Linker, Fort Morgan, 112, Amanda Rios, Fort Morgan, 112, Regan Musilek, Thompson Valley, 113, Emily Coulson, Roosevelt, 116, Britt Geist, Mountain View, 116, Hannah Peterson, Windsor, 116, Erika Ring, Estes Park, 120, Jessica Geisenhoff, Roosevelt, 123, Bailey Skinner, Roosevelt, 123, Kristina Wells, Mountain View, 123, Audrey Ault, Estes Park, 130, Lara Cucarola, Sterling, 137, McKenzi Carlson, Sterling, 142, Katie Miller, Roosevelt, 142, Elizabeth Reyes, Sterling 201
WHAT: 4A STATE TOURNAMENT
WHEN: Monday-Tuesday, 8:30 a.m. tee time
WHERE: Patty Jewett Golf Course, Colorado Springs
FORMAT: 36-hole individual stroke play, plus team championship. Starting off on holes 1 and 10. Minimum of 84 qualifiers
DIRECTIONS: I-25 S to Colorado Springs. Take Nevada Ave. south (Exit 148) about four miles to Espanaola St. Turn left and go seven blocks until you reach the course.
News Image: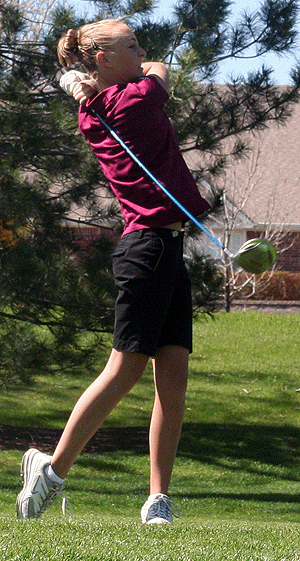 News Image: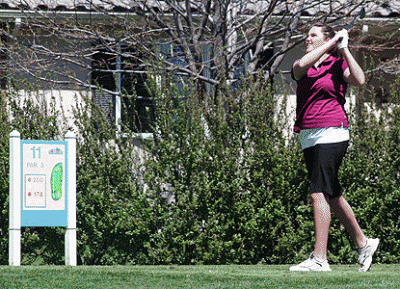 News Image: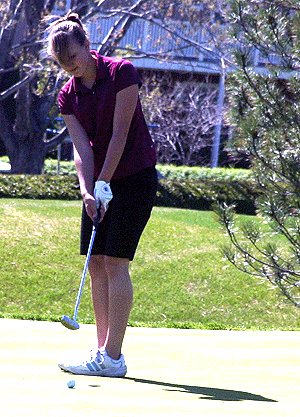 Long Description:
<p>Brandi Peter</p>
Long Description:
<p>Stephanie Heaton</p>
Long Description:
<p>Kacey Fagler</p>
Category Lead:
Category Lead Story

Print This Post