By Laurie Hindman
Berthoud Recorder
Say the word "Bugatti" to the average person and they may think you are referring to a type of pasta or perhaps a specialty drink at a coffee bar (I'll take a vente skinny decaf Bugatti, please). But to anyone who knows cars, Bugatti means elegance, precision engineering and speed.
Jim Stranberg has been restoring and servicing vintage Bugattis since 1973 and has operated his restoration shop in Berthoud since 1997. Car collectors from all over the country, indeed worldwide, ship their cars to Stranberg's shop on First Street in Berthoud. Currently every square inch of the shop houses a Bugatti in some stage of restoration. The shop is immaculate, with three to four mechanics quietly working on the various cars. The completed Bugattis gleam under the fluorescent lights.
The founder of Bugatti, Ettore Bugatti was an Italian who designed and produced some of the world's most exclusive touring and racing cars in Alsace, France from 1909 until World War II. The cars are renowned for their artistic, classy designs as well as their meticulous, custom engineering.
The Bugatti name was purchased by Volkswagen in 1988, and although they eventually produced a limited number of sports cars under the Bugatti label, they were in no way similar to the historic line of pre-war luxury models.
Stranberg said he does work on other French cars from that era, such as the Delahaye and Delage, but Bugatti is both his specialty and his passion. Stranberg was first exposed to Bugatti when a man he was working for in Boulder purchased one.
"It was in pieces," said Stranberg. "He moved it to L.A. and I spent a couple years there working on it. That was it for me. I love the Bugattis."
Stranberg said that while some cars were faster, or more powerful, than the Bugattis, few were as agile, light or as beautifully designed. "The Mercedes is more like a cement truck with car tires, compared to a Bugatti."
Restoration of a vintage car of this caliber is a scrupulous process, added Stranberg. "It takes about two years to do a complete restoration." Stranberg is also particular about the type of mechanic he hires. "It is not necessarily important that they have experience in vintage cars," he said. "What is most important is that they can do very painstaking detailed work. It takes a great deal of patience."
Category:
News – Business
News Image: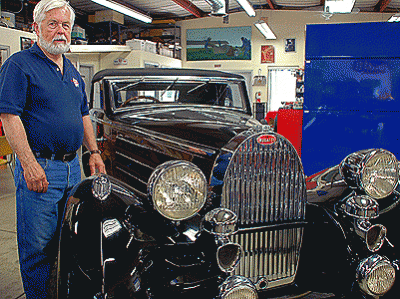 Long Description:
<p>Jim Stranberg, owner of High Mountain Classics, stands by a lustrous Bugatti Type 57 touring car from the 1930s. The car is upholstered in ostrich skin with a finished walnut dashboard. Stranberg has restored and serviced classic Bugatti cars in Berthoud since 1997.</p>
Category Lead:
Category Lead Story

Print This Post