By Deborah Byrd
EarthSky Communications
Friday, May 22, 2009

For the past few days, we've been watching the moon move past these two planets — Venus and Mars — in the east before dawn. Now the moon is gone, but Venus and Mars are still in this part of the sky. Venus is the much brighter object!

Stella wrote, "How do we tell which stars are really planets? I've heard that planets don't twinkle, but that hasn't helped."

It's true that, for the most part, planets don't twinkle. You might, however, see them twinkling a little if you spot them low in the sky (as Venus and Mars are now). Stars always twinkle because they're so far away from Earth that, even through large telescopes, they appear only as pinpoints. And it's easy for Earth's atmosphere to disturb the pinpoint light of a star.

As a star's light pierces our atmosphere, each single stream of starlight is forced by the atmosphere to zig and zag this way and that … and so stars appear to twinkle. On the other hand, planets don't twinkle (usually) simply because they're closer to Earth. You'd know they're closer if you looked through a telescope. Through telescopes, planets look not like pinpoints, but instead like tiny disks. And while the light from one edge of a planet's disk might be forced to "zig" by Earth's atmosphere, light from the opposite edge of the disk might "zag" in an opposite way. The zigs and zags cancel each other out … and that's why planets appear to shine steadily.
It's pretty tough to figure out which objects are stars and which are planets just by looking for the twinklers vs. the non-twinklers. But if you can recognize a planet in some other way, you might notice the steadiness of its light by contrasting it to a nearby star. Find Venus and Mars tomorrow morning. See for yourself how steadily they shine.
More online at www.EarthSky.org.
News Image: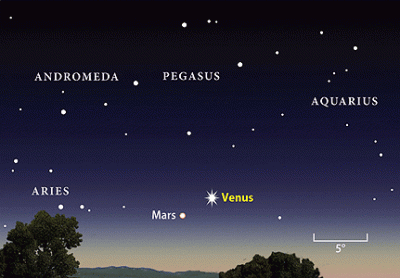 Category Lead:
Category Primary Featured Story

Print This Post