By Laurie Hindman
Berthoud Recorder
Hays Market offers quick meals and good deals for breakfast, lunch and dinner, seven days a week. The breakfast burrito, made with egg, potato, cheese and your choice of chorizo sausage, bacon or ham, is easily the most popular item on the menu.
"When we open at 6 a.m., there is always someone waiting to buy a burrito," said deli manager Silvia Barnes. They sell for only $2.29, but this week, through Monday, they are on sale for $1.99. Hays also serves breakfast sandwiches, on your choice of breads, or a heaping helping of biscuits and gravy, all for under $3.
The hot deli case is always full of tempting lunch items — burritos smothered in green chili, chicken tenders, popcorn chicken, onion rings, potato wedges, jalapeno poppers or mozzarella strips. Each day, two to three lunch specials, such as beef stroganoff, or summer sausage and vegetables, are offered prepared from scratch in the kitchen. Soups are prepared fresh daily and customers can order cold or hot sandwiches individually prepared from the deli.
Thursday is beef taco day. "They're really good," said Barnes. "People wait for Thursdays to come for our tacos." She described a taco, stuffed with seasoned beef, cheese, lettuce, tomatoes, peppers and salsa for only $1.59 each. Friday's are seafood day — fried catfish and shrimp. "The catfish is so delicious," said Barnes. "I don't even like catfish, but I love our catfish. You have to try it to believe how good it is."
Need dinner in a flash? Hays deli has a family dinner package that is hard to beat: eight pieces of chicken (either fried or rotisserie), a pound of real mashed potatoes, half pound of gravy, six dinner rolls and a pound of non-meat salad of your choice for only $15.99, or about $4 per person — now that's a deal!
Category:
News – Business
News Image: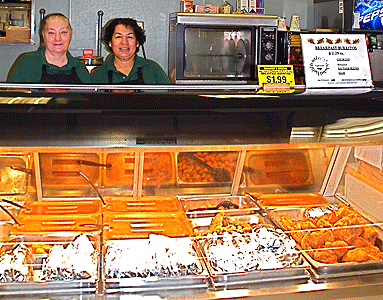 Long Description:
<p>Hay&rsquo;s Market deli worker Pat Frey and deli manager Silvia Barnes behind the hot foods case.</p>
Category Lead:
Category Secondary Featured Story

Print This Post