Kristina Marie Hutmacher of Berthoud and Taylor Anthony Portillo of Broomfield were married in a private vow ceremony at Bottom Bay Beach in Barbados April 7. The couple previously wed in a civil ceremony at the Delta County Courthouse on July 29, 2008. Jeffery Gibson officiated the Barbados wedding.

Mrs. Kristina Portillo is the daughter of Mike and Meredith Hutmacher of Berthoud and is a 2003 graduate of Berthoud High School. She graduated with honors from Chaminade University in Honolulu in 2006, where she majored in marketing and was also a member of the Chaminade Silver Swords cross-country and tennis teams. She is currently in marketing for a Volunteers of America seniors program.

Mr. Taylor Portillo is the son of Kim Portillo of Broomfield and Jose Portillo of Thornton, and graduated from Broomfield High School in 2002. He attended Adams State College, where he played football. He is a gas pipeline equipment operator.

The couple met on July 13, 2006 in Boulder. Taylor Portillo moved to Cedaredge, Colo. in October 2006 for a job offer. Kristina moved there to be with him in February 2007, and on Christmas Eve of that year, he proposed marriage.

After honeymooning in Barbados, the couple plan to celebrate their marriage with family and friends at a reception at the Beaumont Hotel in Ouray, Colo. in June.

The couple owns a home in Cedaredge where they live with their two dogs. Their summer plans include landscaping their yard and boating when they can find spare time.
News Image: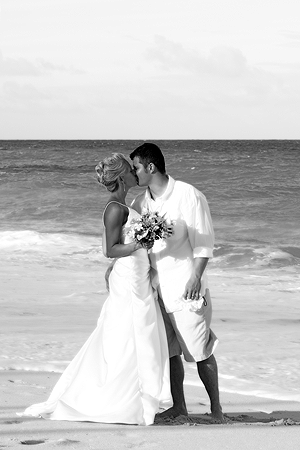 Long Description:
<p><span style="font-size: small;"><span style="font-family: arial,helvetica,sans-serif;">Kristina Marie Hutmacher of Berthoud and Taylor Anthony Portillo of Broomfield were married in a private vow ceremony at Bottom Bay Beach in Barbados April 7.</span></span></p>
Category Lead:
Category Primary Featured Story