By Sandy Barnes
Berthoud Recorder
My father died of starvation on a death march in Nazi Germany near the end of World War II. He was one of many thousands of soldiers who lost their lives while serving their country in the military.
While victory celebrations were beginning in May 1945, wives and families who had lost husbands, sons and brothers were immersed in grief. My mother and paternal grandmother were among the mourners, after receiving the news of my father's death in June of that year.
My father, Sgt. Dorman Shaver, who had trained as an Army communications specialist, had died three months earlier in March 1945. However, a final postcard she received from him while he was still in a German prisoner of war camp had given my mother hope that he was still alive — until the fateful day she received the Western Union telegram from the War Department informing her of his death.
I was just a little more than a year old when my father died, so all I know of him is through stories my family has told me, photos, saved newspaper articles and correspondence. Yet, one yellowed letter I have tells much about him and the experience of being in one of the 106th Infantry regiments captured in the Battle of Bulge in December 1944.
I would like to share with you this letter, which a buddy of my father's wrote to my mother a few months after his death. Along with its condolences is a personal account of one of the most difficult battles that American troops faced in World War II.
---
"Dear Mrs. Shaver,
I was a member of Co. L, 422 Infantry, and knew your husband well. We were in adjoining rooms at Camp Atterbury from June last year until we went overseas and were captured together; and from then until the last of February were buddies in the PW camp. On February 20th, or thereabouts, all of us were moved from Gorlitz, Silesia.
Because of an infected heel, I went with the hospital bunch and was separated from Dorman. I learned later from Sgt. Jones that Dorman had passed away while marching from Gorlitz.
I am at a loss to express my sympathy for you. But I thought it might be some help to hear from a good friend of Dorman and who was with him almost to the end. We moved into position on the Siegfried Line south and east of St. Vith, Belgium (near the Belgium-Luxembourg German frontier) Dec. 10th or 11th. Things were quiet until about the 15th when the big Battle of the Bulge began. We were completely surrounded and by-passed before we knew anything was happening. For about four days our company wandered around, trying to contact American lines and to keep away from the Germans. The rest of the regiment (and most of the division) was captured before we were.
At 11:00 the night of the 19th, we walked into a Jerry machine gun outpost. A grenade got the captain, a lieutenant and wounded three or four men, but the rest of us were unhurt. We were allowed to keep the rations we had, and were not mistreated.
We were registered as PWs near Muhlberg, Germany, then taken to Stalag VIII A near Gorlitz. Things were pretty tough there. We had little food and no tobacco. But we occupied our time talking and sleeping, and each morning Dorman went out for a walk. I thought he was getting along alright. He visited with the others from our company and was taking it well. I hope you received some of the cards we were able to write to our wives.
Then in February when the Russians drew close to Gorlitz, the Jerries moved us out. Dorman went with the main bunch which marched … Jones told me later when we met at Fallingbostel, our next camp, that Dorman had died during the night, without struggle. He went to sleep and didn't awaken. I don't know when it happened.
Dorman was well liked in the company, and was as conscientious a worker as I have ever seen. He worked very hard, and as an assistant first sergeant did everything he could to make things nicer for the men. You can well be proud of him. He was a good soldier and a good friend.

I hope you and the baby are well. If I can be of any help to you, just write me.
Sincerely,
Paul C. Buchanan
---
My mother did not handle my father's death well. She grieved for him the remainder of her life, even after remarrying in the late 1940s. One of the things that made his loss difficult for her to accept was that my father volunteered for military service, believing it his patriotic duty to be part of the war effort.
The memorials to my father, which include a statue of Jesus over the doorway of a church in his hometown of Alexandria, Va. and his final grave at Arlington National Cemetery, did not bring her much comfort.
In a letter she wrote to my father in April 1945 not knowing he had died, mother said, "I'll spend the rest of my life making this up to you. We have both suffered in different ways. I love you more than ever and long to hold you again in my arms."
News Image: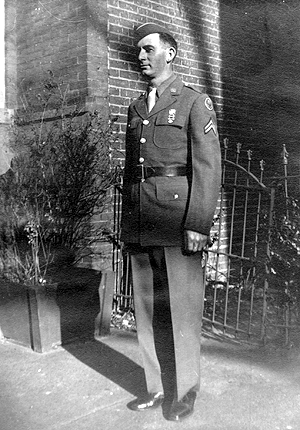 News Image: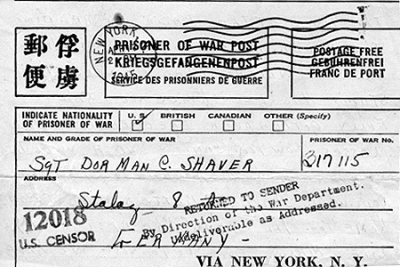 Long Description:
<p>A photo of the author's father, Sgt. Dorman Shaver, taken in front of the Christ Episcopal Church in Alexandria, Va., during World War II.</p>

Print This Post