By Shari Phiel
Berthoud Recorder
Responding to last month's focus on Larimer County's Pre-Trial Services program, County Commissioner Tom Donnelly invited Sheriff Jim Alderden to attend the May citizens' meeting held Wednesday, May 27 at the Light House Café.
Donnelly also gave a brief overview of the costs savings represented by the program and what Larimer County's expenses would be to run the jail without them. He noted the 2009 projected daily inmate average was expected to be 563 but that the actual average has only been 454. Based on a daily rate of $103 to house each inmate, the reduction will result in a cost savings of nearly $4.1 million. When compared to the $1.7 million needed for Pre-Trial Services, this saves the county $2.4 million.
"This is a big deal, and I'm real proud of Jim [Alderden] and those guys for coming up with this and working together," Donnelly said.
Donnelly also noted that in order to accommodate 563 inmates, the jail would have to have at least 660 beds and additional staff, which would result in additional $70 million in expense and $10 million for staffing.
"You need about a 20 percent vacancy rate so you have the ability to move people around. Obviously you can't put the men with the women, juveniles with adults, the ones that are going to victimize some of the people with some of the people that are likely to be victimized," added Alderden.
Alderden also noted that Pre-Trial Services has greatly reduced the number of no-shows for court dates because of the additional monitoring being done that traditional bonding does not.
The next citizens' meeting in Berthoud will be held on June 24 beginning at 8:30 a.m. at the Light House Café.
Category:
News – Community
News Image: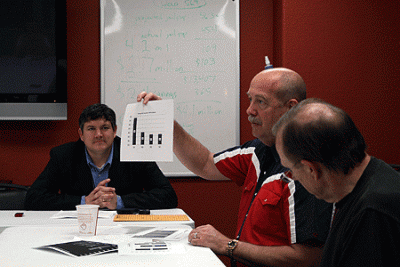 Long Description:
<p>County Commissioner Tom Donnelly, left, and Larimer County Sheriff Jim Alderden discuss the current jail population and the Pre-Trial Services at the monthly citizens' meeting.</p>
Category Lead:
Category Primary Featured Story

Print This Post