By Laurie Hindman
Berthoud Recorder

Over the past few years many Berthoud restaurants have come and gone: Piccabeans, Abeyta's, Bacci's and, most recently, The Wayside Inn. But in these days of economic downturn and empty storefronts, two guys with decades of business experience and passion for brewing craft beers are hoping to open a classic brewpub in Berthoud.

Berthoud resident Ken Mahannah, founder of Little Big Brewing (motto: "Little brewery, big beers") has partnered with Tim Lenahan, a master brewer and brewing consultant, with the goal of finding a financial backer or backers with restaurant experience. Additionally, they are seeking a good brewpub location and have been looking at several possibilities, including the historic Wayside.

"The first thing you have to consider is location," said Lenahan. "The second thing is location and the third thing is location." He explained there needs to be adequate space in the building for brewing equipment as well as ample parking. "Historical buildings are ideal," Lenahan added. "Brewing goes back centuries."
Mahannah, who was a bilingual labor manager in Boulder for years, describes himself as "somewhat retired." "Home brewing is now my work." Mahannah has been brewing for many years and prefers to create what he describes as "big beer" such as Belgians and Dopplebocks. Mahannah said that over time brewing beer grew from a hobby to an obsession.

"My operation got so big my wife had me move my equipment to the garage," he laughed. "There are no cars in my garage. This is my work, my main project — putting together a brewpub."

Lenahan shares Mahannah's passion and has been in the beer industry for over thirty years. "I was brewing beer before home brewing was a trend." He started with Stroh Brewing in Detroit in 1970, and went through the brewing training program, taking courses to become a certified "brew master." He moved to Coors in Colorado, in the early eighties where he was a senior brew master. "Craft beer was in its infancy then," commented Lenahan.

In 1989 Lenahan left Coors. "There was a limit to where you could take your skills." Lenahan said that the large brewers have to follow a protocol and formula for consistency. "I desired more control over the creative process." He became a brewing consultant, working with the start-up of numerous successful breweries and restaurants including the Breckenridge Brewpub, Tommyknocker Brewery in Idaho Springs, and the Snake River Brewery in Jackson, Wyo. He has over 100 medals in brewing, including medals from the World Beer Cup and the Great American Beer Festival.

"Most people get into the business from home brewing," commented Lenahan. "I came from the big company perspective to home brewing. I know the large picture."

Mahannah said he admires Lenahan for his passion and expertise in creating different flavors of beer and is excited about bringing his expertise to Berthoud. They plan to offer fresh, delicious, affordable food, served with good beer. "We want to create entrees with recommended beer pairings. Just like wine, certain foods go best with certain beer." Mahannah said there are even good beers to drink with chocolate.

Lenahan describes himself and Mahannah as "kindred spirits." Mahannah agrees. "We have tremendous synergy," said Mahannah. "And we make excellent beer."

For more information, contact Ken Mahannah, and Little Big Brewing, at (303) 587-8144 and Ken Lenahan, brewing consultant, at (720) 280-6637.
Category:
News – Business
News Image: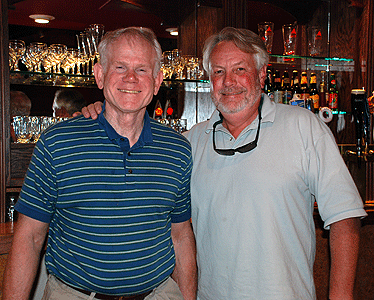 Long Description:
<p>Business partners Tim Lenahan and Ken Mahannah stand behind the bar at<br />the Wayside Inn. The two are checking out potential sites for a classic brewpub.</p>

Print This Post