By Sandy Barnes
Berthoud Recorder
The historic McCarty-Fickel Home on Seventh Street was once surrounded by flower and vegetable gardens, many of which were planted in the early 1900s. While a good portion of the original landscaping remains on the property, most of the former gardens are gone.
"The majority of shrubs and bushes are original," said Teri Johnson, director of the McCarty-Fickel Home. "We would like to get the flowers back to where they were."
A group of volunteers with a love of gardening in their souls is embarking on a project to restore the grounds to their original beauty with heirloom plants. Named in honor of one the original residents, the Jennie McCarty Heirloom Garden Group is beginning the task of finding plants similar to those that used to flourish around the home.
Johnson has been assisting them by researching the plants that used to grow there. She has sorted through more than 120 photos taken in the five-lot yard and has talked with R. Bruce "Doc" Fickel who lived at the home with his wife, the former Helen McCarty, for many years. And through reading the writings of Helen McCarty Fickel, Johnson has learned about Jennie McCarty's gardening abilities and what she planted.
While the goal is to restore the yard to its former state, Johnson said the group is not totally limiting the plantings to what used to be there. However, a recent discovery that truly delighted her was the beginning stages of a Harrison yellow rose bush, which is an offshoot of an original one with a history dating from the late 1890s.
Among the group members working on the garden restoration are Berthoud residents Tim and Charalotte Hardy who raise heirloom roses in their yard. They and other members of the group are exciting to work with because of their enthusiasm and their motivation to accomplish the task at hand, Johnson said.
Included in the heirloom gardens plantings will be representative vegetables and fruits such as ground cherries and celery and hollyhocks. The group is also planning to reintroduce some varieties that Doc Fickel planted, including a large iris of which he was fond.
"I'm so excited about this," Johnson said. The people working on the project love both gardening and history, she said. "Everybody brings so much to this effort."
"We have this beautiful yard," Johnson said. Restoring it will be another gift to the community, she remarked.
To help fund the project, Johnson said that events such as a plant sale are being planned. A recent donation of five yards of compost by Pickert's Dairy was greatly appreciated, she added.
News Image: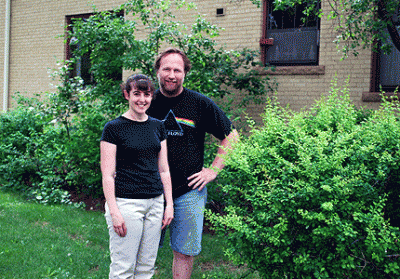 News Image: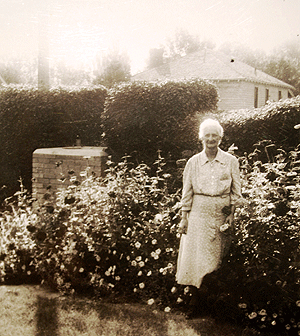 Long Description:
<p>Tim and Charalotte Hardy are helping restore the gardens around the McCarty-Fickel Home as members of the Jennie McCarty Heirloom Garden group.</p>
Long Description:
<p>A photo taken around 1930 shows Aunt Jane McCarty standing in a garden behind the home.</p>

Print This Post