By Shari Phiel
Berthoud Recorder
To the delight of hundreds of parents, siblings, teachers and friends, the 2009 graduating class of Berthoud High School took the stage at Max Marr Field on Saturday, May 30 to receive their high school diplomas.
Retiring high school principal Leonard Sherman, leaving BHS after 31 years of service, opened the ceremonies with an acknowledgement of the 64 senior scholars who were awarded, in total, more than $1.7 million in grants, scholarships and other monetary awards.
Sherman also recognized the top 10 percent of the class, who all earned grade points averages of 4.0 or above. These are: Evan Barker, McKayne Boedeker, Megan Bonds, Gabriel Buckley, David Chrisp, Melody Condon, Brett Deaver, Sarah Fiechtner, Marie Gillette, Rose Heaphy, Lynzi Maas, Kara Sawinska, Kayla Schinke, Julia Story and Jennifer Vaughn.
Although normally announced earlier in the semester, the announcement of valedictorian and salutatorian was held until Saturday's ceremonies, and with good reason.

"I would say to you that it was very, very close between these two people and, in fact, one grade in their final semester made the difference," said Sherman. With a GPA of 4.276, Gabriel Buckley was named valedictorian, while McKayne Boedeker was named salutatorian with a GPA of 4.263.
For his valedictorian speech, Buckley selected a work from "one of his favorite authors," Theodore "Dr. Seuss" Geisel's "Oh, the Places You'll Go." However, he quickly diverted from Seuss' original work to highlight the achievements, memories and challenges of his fellow students like skipping class, going skiing, "TP'ing" teacher's homes, winning the state championship in 2007 and "wishing for a little bit more snow, only to find out the superintendent was an Eskimo."
Remembering the times Principal Sherman would send them on to class, Buckley said, "We'll miss you Mr. Sherman, the staff and the school. But we don't want to stay here, and it's majority rule."
At the request of the senior class, teacher Brendan Gallagher spoke about chasing your dreams and the 12-year commitment made by each of the students. Gallagher encouraged the students to reflect on their accomplishments, "You climbed a mountain of effort, and as with any mountain's summit, you should stop now and enjoy the view."
Gallagher then went on to note that their achievements would not have been possible without the support and guidance of those who came before them, especially the parents, grandparents, great-grandparents and so on. To recognize that support, Gallagher had the senior class "stand and with your applause acknowledge and thank the people on whose shoulders you are standing."
Delivering a heartfelt and inspiring speech, Gallagher paid tribute to outgoing Principal Leonard Sherman. Noting Sherman's impact on the world has been "incalculable," Gallagher stated he has been responsible for helping thousands of students reach their dreams. But Sherman's impact has been far more personal for Gallagher.
"He helped me become and teacher and gave me my first job as a teacher," he noted adding, "Mr. Sherman, there is no where I would rather be right now, than at this ceremony, on this platform with you."
News Image: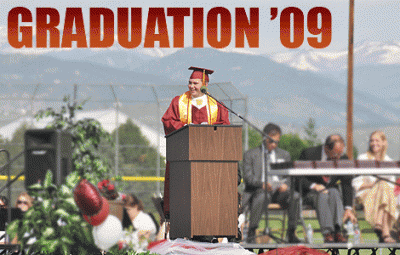 News Image: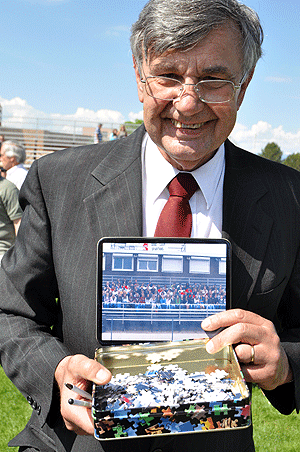 News Image: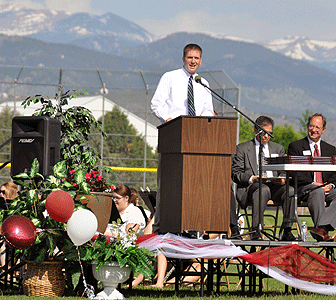 News Image: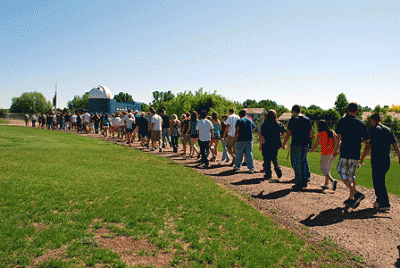 News Image: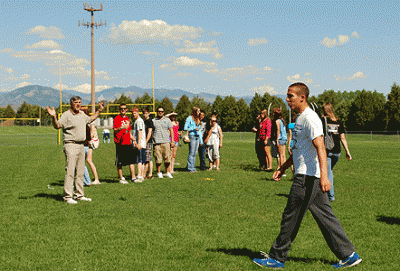 Long Description:
<p><span style="font-size: small;"><span style="font-family: arial,helvetica,sans-serif;">For his valedictorian speech, Gabriel Buckley selected a work from &ldquo;one of his favorite authors,&rdquo; Theodore &ldquo;Dr. Seuss&rdquo; Geisel&rsquo;s &ldquo;Oh, the Places You&rsquo;ll Go.&rdquo; </span></span></p>
Long Description:
<p>The class of 2009 continued the tradition of putting something in Mr. Sherman&rsquo;s hand as he greeted them leaving the stage. This year the class had its group senior photo made into a jigsaw puzzle and handed Sherman the puzzle one piece at a time.</p>
Long Description:
<p>BHS teacher Brendan Gallagher inspires graduates with some well-chosen words.</p>
Long Description:
<p>Members of the Berthoud High School Class of 2009 march to the athletic field for graduation practice the day before the big event.</p>
Long Description:
<p>Berthoud High School Principal Leonard Sherman instructs the seniors as to how to march into the graduation exercises during practice the day before the ceremony.</p>
Category Lead:
Category Primary Featured Story
Home Lead:
Home Page Lead Story

Print This Post