By Laurie Hindman
Berthoud Recorder
Berthoud resident Martha Simmons exudes warmth, humor, confidence and, more than anything, energy. For 30 years Simmons has been fundraising for non-profits, most notably as the executive director for the March of Dimes, executive director for the ALS Foundation's Denver chapter and the executive director of the Limb Foundation. In the 14 years she has lived in Berthoud with her husband, Glenn Parker, and their daughter, 16-year-old Samantha, she has poured that expertise and energy into Berthoud causes.
Parker said his wife is full of positive energy. "Martha looks at every situation as the glass is half full," said Parker. "She sees the good in everybody first before she forms an opinion. That is the way she approaches everything."

This is clear by the enthusiasm with which she explains her life work. "I love fundraising," said Simmons. "It's in my blood." Simmons explained that her parents were very active in the Pueblo community. "At age five I was doing the Mother's March of Dimes. My parents instilled it in me."
"It's a good job. I have a good time. It's challenging and I am helping people in need. Once you meet the patients, you get hooked."
Simmons was working for the ALS Foundation when her daughter Samantha attended Ivy Stockwell Elementary. Simmons threw herself into volunteering and fundraising for the school. "Martha was our volunteer extraordinaire," said Rhonda Richer, Ivy Stockwell's principal. "My first memory of her is when she took over our fall carnival. It has never been the same. She started our tradition of a silent auction of classroom theme baskets. It was a tremendous success. She also spearheaded the fundraising for new playground equipment."
Richer said most significant was work she did when the Ivy Stockwell health assistant, Pam Knudsen, was stricken with ALS, also called Lou Gehrig's disease. "Martha really just took it on with all the passion in the world," said Richer. "She worked with Pam and her family every step of the way. She organized these amazing fundraisers. She got Pam the equipment she needed and helped us [the Ivy Stockwell staff] learn how to best support Pam through her illness and helped us through our grieving." Knudsen passed away in December 2003.
Simmons said it was this type of painful experience that made working for the ALS Foundation tough. "It's a heartless disease. You don't survive." Simmons said when she came on board she was told the only office supply she would need would be a black dress. She worked for ALS for five years before her family convinced her to quit. "Glenn and Samantha came to me and told me I had lost my smile. It's true. I became too emotionally involved. I was consumed with it everyday, every night."
A short time later Simmons was offered the opportunity to work for the Limb Preservation Foundation. Less than two years after taking the job, Simmons again was called to put her expertise and energy into helping a Berthoud family. On Jan. 15, 2007, Berthoud High school students Nikko Landeros and Tyler Carron lost their legs in a tragic accident. With the school and town reeling in shock, Simmons sprang into action. "My daughter came home crying and said everybody in school was sobbing. She said, 'you've got to help us. We have to do a bake sale.' I said, 'honey, they're going to need more than a bake sale.'"
Simmons said the day after the accident she got a call from Deedee Broes, a longtime friend and colleague who was also active in the community and had worked with Simmons as a grant writer at the ALS and Limb Preservation foundations. Like Simmons, Broes had a BHS student and wanted to get involved in the fundraising effort for Nikko and Tyler. Mark Chaffee, owner of the Berthoud Inn and Event Center, also contacted Simmons. The three began strategizing.
"I said, 'let's do a phone-a-thon,'" remembered Simmons. "'We'll use the school; all the kids have cell phones. It's free after seven.' We tore it up. The kids raised $56,000 that night and another $80,000 at the spaghetti dinner a week later."
"We all fed off of one another," said Simmons. "It was a great team effort." Simmons said the calls kept coming in from all over the country from people wanting to help. "We had to centralize it," said Simmons. At Broes suggestion they formed "Berthoud Cares" which became the central clearinghouse for the calls, donations and offers of help. "For three months it was all-consuming," said Simmons. Afterwards, Simmons, Broes and other members of the committee decided so much good had come from Berthoud Cares, they should keep it going. "We thought, let's see if we can do some things for others in the community who are in need."
Chafee said Simmons was instrumental in the creation of Berthoud Cares. "It wouldn't have happened like it did without Martha. She should have been recognized in a large way a long time ago."
Broes agreed. "Martha's expertise and knowledge was critical." She added that like with Pam Knudsen, Simmons worked with the families of Nikko and Tyler not only to fundraise, but to help them through the trauma and loss of their limbs, as well as getting the equipment and support they require. "She knew what they needed before they did."
"Martha is one of the most amazing women I have ever met. She can get more done than a team of people and get it done better than anyone." Broes said Simmons has an enormous network and knows how to get things done. "In every situation she goes above and beyond. She is skilled at using her contacts and expertise to help others. She can raise an unbelievable amount of money."
"We are lucky we have her," Broes said.
Category:
News – Community
News Image: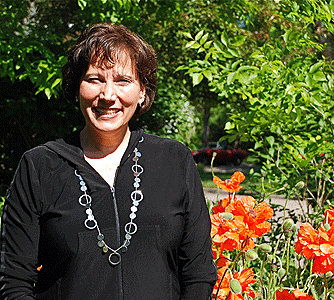 Long Description:
<p><span style="font-size: small;"><span style="font-family: arial,helvetica,sans-serif;">Berthoud resident Martha Simmons is our Volunteer of the Month. Simmons has worked as a fundraiser for nonprofits for more than 30 years. She has used her expertise, networks, compassion and high energy to raise money and awareness for Berthoud families in need and was instrumental in the creation of Berthoud Cares.<br /> </span></span></p>

Print This Post