By Jamie Folsom
Berthoud Recorder

After 20 years in the high-tech industry, Berthoud businessman Robert Towles is headed in a new direction, opening Allstate affiliate Eagle Insurance Agency, LLC in Loveland on June 1. "High-tech is not as much fun as it used to be, and I wanted something I enjoyed," said Towles, who is returning to the insurance field after selling life insurance, working in the auto industry, pursuing a short career in the Marines and 19 years with McDATA Corporation in customer service.

"It was a good experience and then I moved on," Towles said of his brief stint with New York Life, shortly after moving to Colorado in the early '80s. "I want to do things better and do things right, and I can use what I've learned over the years," he said.

He believes his extensive customer relations experience gives him the right outlook for his new career path. "I learned the most important thing is doing what's right for the customer," he said.

Besides his work life, Towles also has his music. He took up sound design at an early age, and continues to support his family's musical endeavors, which are many. Each of his four sons is heavily involved in music. "We tried to expose our kids to all kinds of music," which he says included karaoke, records and music lessons.

Berthoud residents will recognize his son Sean's name from the hard rock band Snake Alley Driver where he is the drummer. Towels' son Ryan chose saxophone as his musical base. Nineteen-year-old Blaine Towles graduated from Berthoud High School in 2008 and is a film student at Montana State University. He is also an accomplished pianist. Towles' youngest son Drew is know to many for his fine singing voice as part of the Bridge Between Show Choir and a capella group Priority 5.

For now, Towles is happy to be the sound guy. And with a fresh start in a people business, he has the upbeat attitude to keep ahead in tough times.
Robert Towles Profile
Grew up in southeast Michigan

Graduated from Chaminade University in Hawaii

Lives in Berthoud with his wife Sue Radway

Co-founder of the Berthoud Wrestling Club
Quotable
"A wise man once said, 'All roads lead to where you are,' and here I am!"
Category:
News – Business
News Image: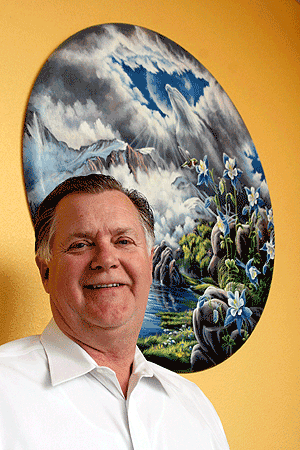 Long Description:
<p>Insurance agent Robert Towles stands with a painting that sets the tone for his new offices in Loveland. Created by popular Colorado artist Lori Salisbury, &ldquo;Eternal Blossoms&rdquo; commemorates the events at Columbine High School in 1999, using columbine flowers and an eagle rising up from the scenery.</p>

Print This Post