By Sandy Barnes
Berthoud Recorder
In simpler times, dessert was a special treat reserved for Sundays and special occasions, instead of a daily expectation. As delicious and tempting as desserts can be, most are loaded with unhealthy sugars and fats that can add pounds, deteriorate teeth and lead to other major health issues.
So what's a conscientious cook to do when he or she hears the eternal question, "What's for dessert?"
One good answer is fruit, as unprocessed as possible. Especially now when in-season fruits are becoming ripe and relatively inexpensive, there are great options from which to choose. Of course, the best and easiest thing would be to wash, peel and eat fruits in their glorious, unadorned state. For those who would like a more creative presentation, here are two recipes using pineapple and blueberries while preserving their nutritional value:
Blueberry Pineapple Parfait
Ingredients:
1 cup fresh pineapple chunks
8 ounce container organic lemon yogurt
1½ cups washed blueberries
½ cup granola
Mix pineapple and yogurt together. In a small wine or juice glass, alternate layers of pineapple, yogurt mixture, blueberries and granola. Top parfait with dollop of yogurt.

Serves four
---
Blueberry Tart
Ingredients:
Crust:
½ cup walnuts, lightly toasted 5 minutes at 320 degrees
1 cup graham cracker crumbs, preferably whole wheat
1 tablespoon butter
1 tablespoon canola oil
1 large egg white
Filling:
8 ounces Neufchatel cheese, softened
¼ cup Greek style thick yogurt
1/3 cup maple syrup
2 cups washed blueberries
For crust, finely chop walnuts. Whip egg white until fluffy and blend in walnuts, graham cracker crumbs, melted butter and oil. Press mixture into tart pan with removable bottom, place on baking sheet and bake at 325 degrees for about 8 minutes until medium brown. Cool crust.
To make filling, blend cream cheese, yogurt, ¼ cup maple syrup and place in cooled crust. Place blueberries on top and pour remaining maple syrup over them. Chill in refrigerator at least one hour before serving.
News Image: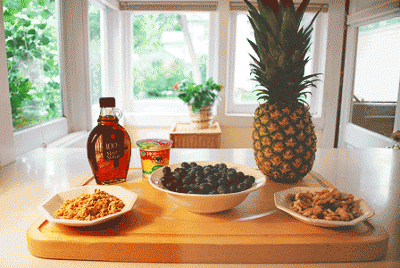 Long Description:
<p>Fresh pineapple, blueberries, maple syrup, lemon yogurt, walnuts and granola are starting points for fruit-based desserts.</p>
Category Lead:
Category Primary Featured Story

Print This Post