By Jamie Folsom
Berthoud Recorder

Starting at the crack of noon, the jazz quartet ZARO kicked off the main stage entertainment at Berthoud Day with danceable, lunchable tunes in the park. Zach Rothenbueller on guitar, Andrew Vogt on sax, Roger Barnhardt on bass and Oscar Desoto on drums comprise the band, which boasts over a hundred years of musical experience.
For front man Vogt, it began with Henry Mancini and the soundtrack to "Breakfast at Tiffany's," but others mentioned such diverse early influences as Frank Zappa, pianist Wynton Kelly, guitarist Mike Stern and TV theme shows.

Their eclectic tastes come together in ways Rothenbueller, the youngest member of the band, says are "tunes that not everybody else is doing." Or in other words, "the not-so jazz standards," noted Barnhardt. "We like to keep it very challenging," said drummer Desoto, who also plays with several groups in the region.

ZARO will next be seen in northern Colorado at Lucky Joe's in Fort Collins June 18. They play the Fort Collins Jazz Experience Friday, July 10 at the Stonehouse Grille and noon on Saturday, July 11 in Old Town. More info: www.MySpace.com/ZAROjazzfunk and www.DrewsBlues.com.
Category:
News – Community
News Image: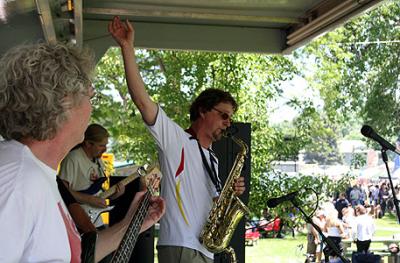 Long Description:
<p>Members of the band ZARO wrap up a set of hot jazz at Berthoud Day. From left, Roger Barnhardt on bass, Zach Rothenbueller on guitar and saxophonist Andrew Vogt. Not pictured, drummer Oscar Desoto.</p>

Print This Post