The Movers and Shakers of the Berthoud Sports Scene: Mike Major[First in a 10-part series]
They are husbands, fathers, wives and mothers. They've also been the past, present and future of the sports scene in Berthoud. They are 10 people who've made an impact in molding athletics in this northern Colorado town. From June 18 through Aug. 20, the Berthoud Recorder will take a look at them and their impact on athletics.
By Michael Hicks
Berthoud Recorder
It's a memory that will stick with Mike Major forever. He was coaching recreational baseball with a player on the roster who, as Major said, probably didn't have an athletic bone in his body. The kid's glasses hugged his nose, but they couldn't take away his ever-present smile.
The kid would tug Major's shirt, always wanting to play. One day he was playing in right field — the place where coaches tend to play their worst fielder. But Major said the decision was more out of fear of him getting hurt than anything else.
Then it happened. An opposing player smacked a drive to right field. The kid starts dancing around with no hope of making a play. Major even hoped that the kid would get out of the way. The player didn't. Instead, almost miraculously, the ball found its way into the kid's glove to end the inning.
Major can't remember the kid's name, but he remembers the kid running into the dugout and jumping into his arms. The moment left Major choked up. It's moments like that that will always stick with the 49-year-old Longmont native as he recalls his time as a youth coach.
The father of four, Major has dabbled a little in everything. He started out coaching fast-pitch softball in Longmont, which eventually led to the formation of the Berthoud Blaze, an organization of which he was once president. He also served as president of Berthoud baseball and coached in-line hockey. But his biggest impact may have come with the Berthoud Youth Athletic Association and with football.
"One of the things we tried to do as an organization is to make sure that everybody had a place to play. It didn't always pan out that way," Major said. "I was always involved in the competitive part of the sport. I was the one that wanted the kids to play at a higher level. We always tried to make room for the kid that wasn't something special."

Major, who played basketball and football himself in the seventh and eighth grades before leaving school to run his father's security business after his dad suffered a heart attack, moved to Berthoud in 1994. After coaching his daughters, Jessica and Jennifer, in fast-pitch softball, he turned his attention to his oldest son, Jordan, and his fifth-grade football team in 2001 — the inaugural year of the BYAA. Major worked as the offensive coordinator for Rick Bowles' team that made it to the league finals three straight years before winning it in 2004, Jordan's eighth-grade year, with Major serving as co-head coach.
"It was a real good bonding moment throughout those four years with me and my dad. After school we'd go practice and stuff. Having your father as your coach is a lot different. You learn a lot more together. You're around each other more often," Jordan Major said. "It definitely was a fun experience."
As much as he played a role in his children's athletic upbringing, Major was also instrumental in getting BYAA off the ground and running.
"I think it's an outstanding football organization," Major said. "I think they do a good job with football. Since I've been gone they've taken off with girls' fast-pitch softball and basketball. Both are competitive leagues."
After Jordan graduated to high school, Major coached one more year with his youngest son Jacob before hanging up his coaching hat. He had coached all of his children, not to mention many others, but he almost didn't get that opportunity. Oldest daughter Jessica had to be persuaded.
"Jessica was a dancer. I finally convinced her to come out to fast-pitch softball because I was tired of going to the dances," Major said. "I wasn't tired of it. I just couldn't sit through the dances, the recitals."
Eventually, he didn't have to. Jessica, like younger sister Jennifer, moved on to play softball. But whether his children played, or anybody else's for that matter, for the athletic gains, Major had an ulterior motive for having the kids play.
"The whole idea for me being involved in youth sports was keeping the kids busy," Major said.
It did that.
He doesn't plan on returning to coaching. He'll leave that up to his sons-in-law, who have taken over the reins coaching Major's grandchildren. But the time he spent coaching will always provide him with a lifetime of memories.
"I missed it when I first got out of it. I mean, it took a lot of time. Being self-employed helped a lot," Major said. "(But) my relationships with the kids that I coached was worth it by itself."
---
Mike Major
Age/Birth date: 49/June 18, 1960
Education: N/A; ran father's security business at age 14
Career: Self-employed in asbestos removal
Family: Daughters, Jessica, 27, Jennifer, 26; Sons, Jordan, 18, Jacob, 17
"My relationships with the kids that I coached was worth it by itself."
News Image: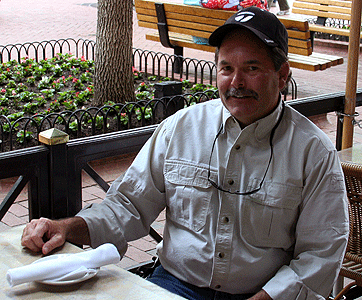 Long Description:
<p>Mike Major</p>
Category Lead:
Category Lead Story

Print This Post