By Taylor Lee
Berthoud Recorder

Throughout Town, anyone should be able to see there are quite a few teens working for various local businesses. Some kids work for restaurants like John Dough's Pizza or the Jumping Bean while other kids work at the local grocery store — Hays Market. But then there are also those working for the Berthoud's Parks and Recreation department.
There are quite a few job positions within Parks and Recreation during the summer; such as coaching T-Ball or 12-and-under baseball and softball, or doing maintenance work like mowing and weeding around Town. But one of the most popular summer jobs at the parks department seems to be working at Berthoud Pool. Who wouldn't want to work at the pool on a hot summer day?
According to recent Berthoud High School graduates Megan Pickert (Class of 2008) and Polly Poirier (Class of 2009), working at the pool is the best summer job available.

Pickert, 19, also known to the kids as the "mean guard", will be a sophomore at Mankato, Minn., this fall. This is her sixth summer working at the Berthoud Pool. She got involved with the pool her first year as an assistant coach for the swim team and has been working there ever since. She believes that the best thing about lifeguarding is that you get to work with all of your friends and it's a good summer job. Pickert says her favorite part is teaching swim lessons while the worst is that it's only a three-month job.
"I come back every summer because it is a fun job and it still requires responsibilities but it's also laid back at times," Pickert said, "It also helps me get clients for private swim lessons and I like coming back to see the kids grow up."
Poirier, 18, who is a third-year lifeguard, will be attending Mesa State in Grand Junction, Colo. in the fall. She began lifeguarding after working other jobs through the Town and liked working for them. Plus, she's always been a "water baby."
"The best part of this job is watching the kids grow up over the years and how they are getting better with their swimming," Poirier explained, who agreed that the only bad part is its short term availability. "I keep coming back every summer because I love the pool and it's a great place to work with an awesome environment."
Both plan to return again next year. This year as a side project, the pair took on the task of cleaning up the employee office at the pool and giving it a little color. The office was originally white with green lettering and Pickert and Poirier decided to paint it blue with red letters and yellow hand prints. They also had some help from fellow lifeguards Lynzi Maas and Anna Krajec.
News Image: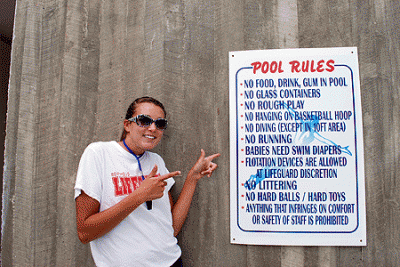 News Image: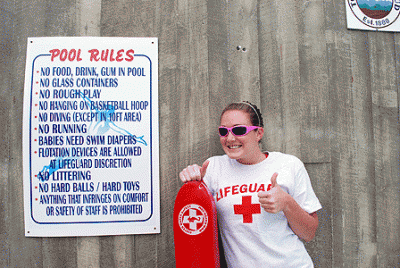 Long Description:
<p>Berthoud High graduate Polly Poirier works as a lifeguard at the Town pool.</p>
Long Description:
<p>BHS grad Megan Pickert also works as a lifeguard.</p>

Print This Post