By Bruce McClure
Earth Sky Communications
Thursday June 18, 2009
The next few mornings present the planets Venus and Mars nearby the waning crescent moon. Look for them in the eastern sky during the dawn and predawn hours. This gorgeous celestial threesome — the moon, Venus and Mars — can be seen the world over, except at latitudes close to the Arctic Circle and farther north. Simply wake up at dawn — or earlier — to spot the banana-shaped lunar crescent in the east before sunrise.
Then look for that blazing point of light rather close to the moon beaming far brighter than any star. That brilliant light is Venus, the third brightest heavenly body to bedeck the sky after the sun and the moon. If it's clear in the wee morning hours tomorrow, you can't miss Venus, the dazzling morning "star."
The fainter but visible planet Mars shines right next to Venus. These worlds are so close together that they're only a finger width apart when holding your finger an arm length away. Although Mars is as bright as a first-magnitude star, it pales next to Venus, the brightest point of light in all the heavens. Venus outshines the red planet Mars by more than a hundredfold.
If you can't see Mars with the unaided eye, try binoculars. Venus and Mars will appear in the same binocular field together all through June. Once again, look in the east during the dawn and predawn hours tomorrow and Saturday to catch Venus and Mars nearby the moon.
More online at www.EarthSky.org.
News Image: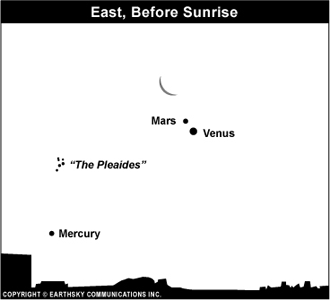 Category Lead:
Category Primary Featured Story

Print This Post