By Dani White
Berthoud Recorder
"Year One" is a discombobulated, outlandish "odyssey" of two Neanderthal numbskulls Oh (Micheal Cera) and Zed (Jack Black) trying to find a greater purpose in the world or just somewhere they fit in. The two make a very lively duo of humorists: while Black is a bit of a prattling, off-the-cuff, madman comedian (Cera) is a contrastingly demure, witty, single-syllable wise-cracker. Oh and Zed discover they are much more capable when it comes to wielding humor than spears (or swords) and they continue to find themselves outcasts in various ancient social orders.
There really is no clear premise in "Year One." Two idiot-savant cavemen are promptly booted from their tribe. They wander over a mountain supposedly meant to drop off the end of the world only to stumble upon none other than Cain and Abel. The "Year One" is a grossly anachronistic clashing of comedy and other mixed genres. The film enthusiastically reinforces the stereotype that caveman equals moron and pokes fun at the brutality of early biblical tales. There is no shying away from the crass or ridiculous in this film, directed and co-written by Harold Ramis ("Caddy Shack," "Groundhog Day"). There are a few legitimate laughs to be had. The upside is quality casting and scene-stealers like David Cross as Cain and Oliver-Platt the high priest of Sodom (enough said). Black and Cera, however dynamic, come across like Jay and Silent Bob wishing they were Monty Python. The film "Year One," like its two main characters, meanders pointlessly for over ninety minutes trying too hard to be funny rather than just being funny.
"Year One" offers interludes of humor but nothing epic and will probably fall to the wayside of contending mid-summer comedies like "The Hangover." In fact, it seems that "The Hangover" will appropriately linger well after "Year One" has come and gone. "Year One" might be the kind of comedy that grows on an audience but I would recommend waiting until it hits the rental racks. A caveman would have to club me before I would pay full price movie ticket rates to go see the film again.
---
"Year One"
Directed by: Harold Ramis
Screenwriters: Harold Ramis, Gene Stupnitsky and Lee Eisenberg
Starring: Jack Black, Michael Cera and Oliver Platt
Rating: PG-13
Runtime: 97 minutes
Reviewer rating: 1.5 out of 5 stars
News Image: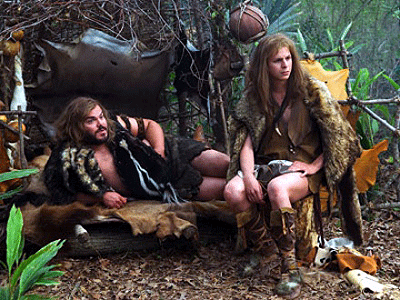 Category Lead:
Category Lead Story
Home Lead:
Home Page Primary Featured Story

Print This Post